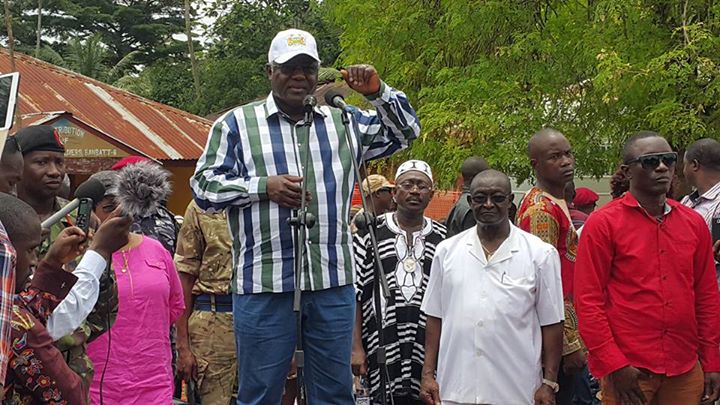 How President Koroma's Government Spent Le3.7 Billion on Brushing Grass
The Majority Leader and Leader of Government Business in Sierra Leone Parliament, Hon. Ibrahim Bundu has urged Members of Parliament (MPs) and relevant authorities to find out how the sum of over Le 3.7 billion was spent on brushing of grasses along roads and sideways across the country.
Hon. Ibrahim Bundu's comments were made during the debate on the motion and adoption of the reports of the Committee on Works, Housing and Infrastructure which was laid on the table of the House on Tuesday 3rd November 2015 and other oversight visits on road construction sites nationwide.
It should be recalled that it has been a burning issue for Hon. Dr. Bernadette Lahai, Minority Leader (who was absent) but who has always expressed her concern over the thick bushes around the major highways which she said makes night driving dangerous for visibility reasons.
According to Hon. Bundu, elected officials must find out how various financial allocations for their districts and constituencies for the brushing of bushes along roadsides were spent.
He said: "From the periods of May to September a total sum of over Le 3.7 billion was allocated for just brushing of grasses along highways across the country," and added that although this money was allocated, there is still a problem of visibility caused by thick grasses along the roadside and sideways.
Hon. Bundu urged MPs to find out where the brushing did take place, and added that "we need to know the contractors and where they have brushed."
He implored his colleague lawmakers not to sit and wait because they are the ones that are revered and reviled by their constituents.
However, the news of the Le 3.7 billion came as a surprise to many MPs who claim to not have had any knowledge of such allocation and work in their constituencies.
One MP asked: "Along what roads in Freetown did they brush," adding that it will be hard for them to monitor and find out because they do not know the contractors or companies involved.