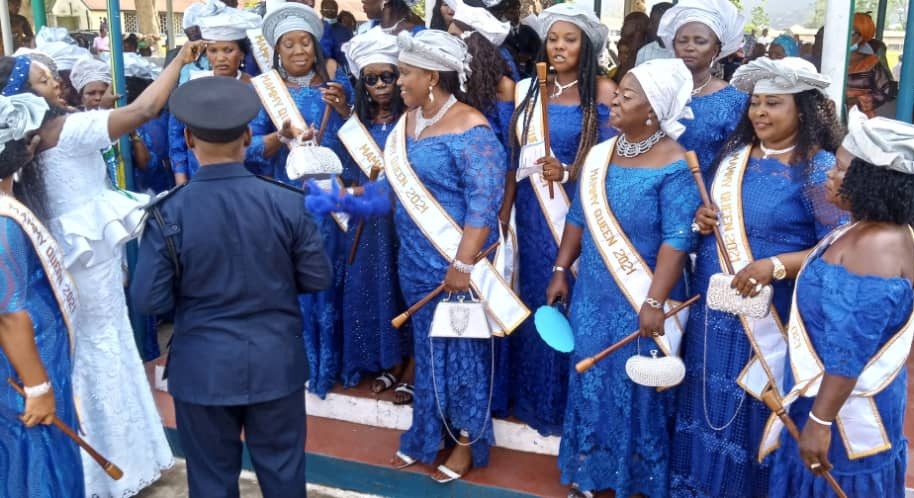 Hawa Sovula Gives Facelift to Police Wives Association
Within twenty months of her Stewardship as the President of the Sierra Leone Police Wives Association (SLPWA), Mrs. Hawa Sovula has transformed and placed the Association on development trajectories which caught beyond the eyes and imagination of detractors or perhaps pessimists.
Following the appointment of her husband as the Inspector General of Police (IGP) which automatically saw her emerged as the head of the association. She wasted no time, she moves from one place to the other knocking on doors and lobbying.
Her effort, after few months started yielding fruit as seen today, the Sierra Leone Police Wives Association (SLPWA) Vocational Training Center at Kingtom currently has 250 students including physically challenge persons who are being trained in adults education, construction, tailoring, catering, mechanical solar Installations and Masonry, all free of cost aim at complementing President Bio Free Quality Education project.
The Center has been extended to accommodate more students. To help with safe drinking water and save children from waking up early in the morning or staying late at night to fetching water from long distance, the association has provided water facility in 4 barracks, Kailahun, Lunsar, Kabala and Hill top.
For the first time in history of the SLPWA, they have established a bilateral relationship with the Nigeria Police Officers Wives Association.
As a season administrator, one of her first priorities was to have a well structured and administered association through vigilant Mammy Queens and Deputies.
"Some months ago, I tasked Police wives in all barracks to elect for themselves who they believe will represent and serve them well as their Mammy Queens" she said and therefore encourage the newly elected Mammy Queens to think and find possible solutions to local problems affecting their subjects and to settle minor disputes amongst themselves.
She strongly warned against Cabal and urges them to help her build a united Police Wives Association that will have one voice.