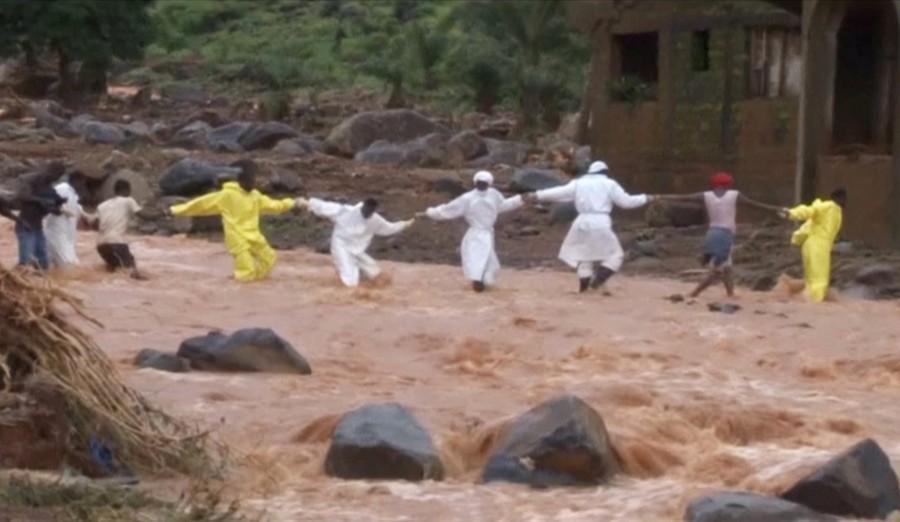 Heavy Rain Destroy Houses, Properties Worth Millions in Kabala
Ninety-Five (95) people at 'One mile' were left homeless and without properties after heavy rains destroyed houses and carted away properties worth millions of Leones on Sunday Night 22nd August 2016.
The rain came in two intervals resulting in the loss of properties, damage to people and displacing children, women and the aged. It was described as this year's heaviest rainfall after it was started from around 1:00am to 4:30am. Over three houses were seriously affected along Yembeh Street, with two completely destroyed while others along the Makeni road towards the newly constructed culverts at One mile junction were also broken down with properties washed off.
James Bangay is a Catholic Relief Services staff from Moyamba working in Kabala. He said they are seven in number and that they were woken up by neighbours at about four in the morning, after it had rained for about two hours. He said when they opened the front door the force of the settled water outside rushed in and washed everything in the house including their documents, laptops and other valuable properties.
Ansumana Sawaneh said he was born and raised on Yembeh street for the past Forty-Five (45) years but the rate at which their area was flooded was first of its kind, to an extent that half of their family house had fallen. He said there are 26 people in the two houses and that they had lost everything from personal belongings to books of school going children, dress and food stuff.
Ibrahim Mansaray and five of his colleagues are tillers who told Awoko Newspaper that they were far gone in their sleep especially with the sound of rain drops on their zinc when noise from their neighbouring rooms scared them. They said unfortunately by the time they woke up half of their belongings were gone after the water broke into their apartment through the front door which saw them fighting to recover the few properties they could lay their hands on.
Kanko Marrah is a mother of four school going children and resides along the main Makeni road in Kabala. associate the level of damaged cause as a result of the flooding to the newly constructed culverts along the Makeni road at one mile. She said even though she is not an engineer but noted that most of the drainages within Kabala town empty into the one mile bridge which the Sierra Leone Road Authority (SLRA) had converted into a culvert.
The woman said from time immemorial the bridge that was condemned by SLRA had served them well with no flood in that part of the township but pointed out that since the bridge was changed as a result of ongoing road work into a culvert which according to her youths did protest about, the gravity of running water into the swamp from Kabala town at high speed.
Sarrah Conteh a young student who assisted his brothers and sisters with lunch from his 'Young Money Charging' centre situated adjacent the outlet of the new culvert, said, her shop was a pool of water with all the mobile phones, laptop computers, DVD, his leister generator and other food items been destroyed by the water. He said even though the shop has a metal steel door the water finds it way through and damages his customers' properties and his as well.
Despite the fact that stakeholders in the district were not around when those women, youth, children and the aged were looking for solution into their situations but the level of rain in Kabala especially in August for many is a course for concern.