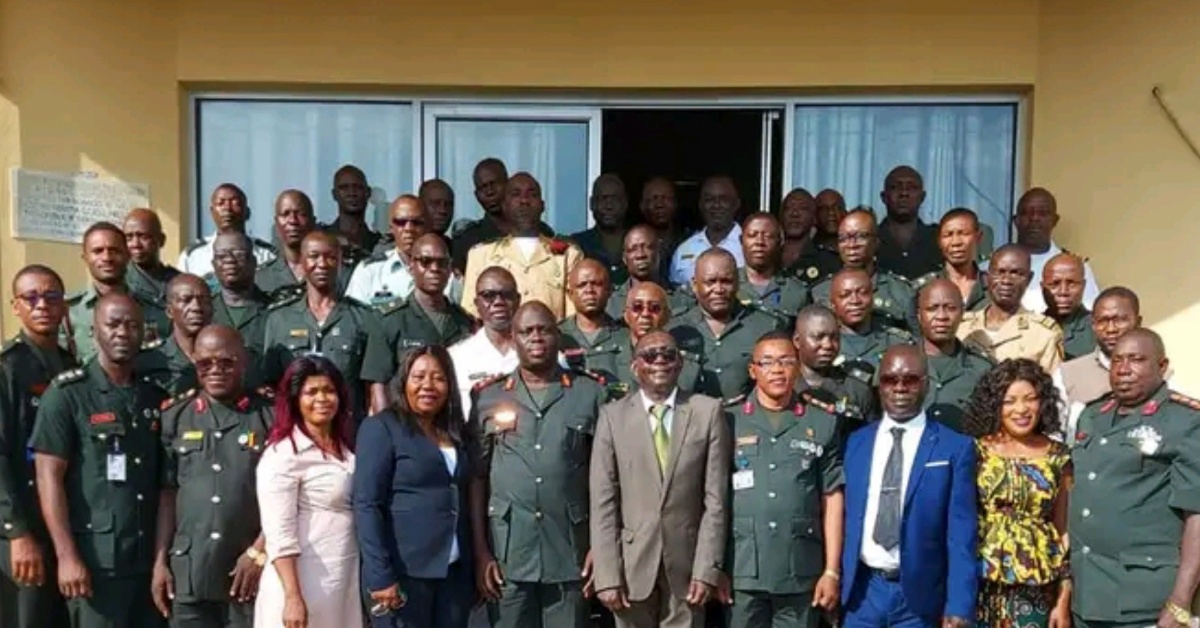 Horton Command And Staff College Sierra Leone, on a Sub-Regional Tour in Liberia
A forty-five-man delegation from the Horton Command and Staff College (HCSC) in Sierra Leone which includes a Brigadier General and senior staff from the Ministry of Defence, comprising fourteen academic staff and thirty students from the Armed Forces of the Republic of Sierra Leone, as well as from Guinea, Gambia and Liberia is on a five-day sub-Regional study tour in Liberia.
The Horton Command and Staff College(HCSC) is currently in session and as part of the Senior Command and Staff Course 01 packages, students are required to conduct field research into contemporary thematic areas in a selected country within the West African Sub-Region.
The theme of the current research project is 'Strengthening Collaboration among ECOWAS Member States to Combat Terrorism and Transnational Organized Crimes within the Sub-Region".
The purpose of the research is to, among others, build and develop the research capacity of the students and to also allow them to interact with external stakeholders in the Republic of Liberia.
Terrorism and other forms of organized crimes pose global challenges whose solutions require concerted efforts from all sectors in regions across the world. This study and related interactions should form part of the conscious efforts to present a united front against what is a serious and evolving worldwide threat.
The delegation which arrived in Liberia on the 14th of November 2022, paid a courtesy call to the Sierra Leone Embassy staff in Monrovia, Liberia, on the 15th of November 2022.
They were heartily welcomed by the Deputy Ambassador, Mr. Jonathan Saffa, the Head of Chancery, Mrs. Sia Tejan, and other staff of the Embassy. Deputy Ambassador Saffa encouraged the students to work hard, stating that the tour was not only meant to build their academic capacity but that it will help to build their life skills and also help them in decision-making and coping with emotions and stress. He added that the Embassy was overwhelmed with reports of human trafficking, emphasizing a fake company called Qnet which has been duping Sierra Leoneans in Liberia.
The Head of the delegation, Brig. Abu Bakarr Conteh, in a short statement, thanked the Deputy Ambassador, the Head of Chancery and the entire staff of the Sierra Leone Embassy in Liberia for the warm reception accorded them.
He stated that they are aware of the challenges facing the sub-region, which is part of the reason why the Horton Command and Staff College requested their students to embark on the study tour to have first-hand knowledge of the situation.
The Chief Instructor of the HCSC, Col. Tennyson Pessima introduced the instructors and students to the Embassy Staff and Major Mohamed Suliaman Kemokai gave the vote of thanks on behalf of the team.