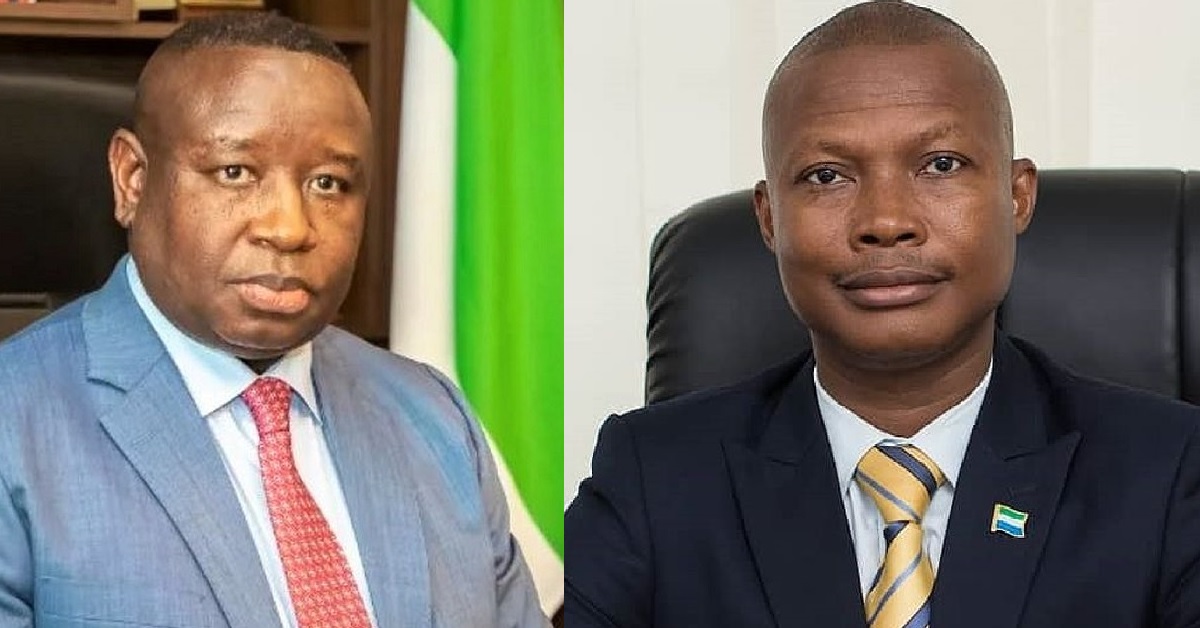 Fake Degree: The Indelible Character of Baluwa Koroma Cannot be Overshadowed by Malicious Propaganda
After a hungry fox had attempted on several occasions to get a bunch of grapes from a vine that was trained along a high trellis without success, he referred to the grapes as sour and not worth pursuing to save his reputation and ego.
Such could be said of John Idriss Lahai, the blasphemous man of the moment who having failed to get a lucrative job under this administration, has resorted to discredit decent and hardworking Sierra Leoneans that are excelling in their places of work. Had he gotten what he wanted, would he ever pursue his fruitless and perilous publications that are questioning the academic qualifications of decent personalities? I wonder!!
His latest victim in his malicious campaign is the astute and industrious Executive Chairman of the Petroleum Regulatory Agency, Brima Baluwa Koroma who has worked tirelessly to transform the Agency and take it to the pinnacle of success. Baluwa Koroma is decently educated with an indelible track record that made His Excellency the President Dr. Julius Maada Bio, to appoint him as head of the PRA and does not need to hide behind the cloak of a PhD to serve in his current capacity. "Baluwa did not use these certificates to his advantage. Meaning, he did not use them to gain any employment or financial benefits. He got appointed by President Bio and went before Parliament with relevant qualifications and work experience that made him to be approved by the Honorable House and he never presented the said Doctorate certificate as part of his credentials," says an Opposition Member of Parliament.
If there is any compelling sector worth investing in Sierra Leone currently, it is the downstream petroleum industry. A sector that was once marred with monopoly, lack of investor's appetite, has been transformed to an enviable industry that has attracted foreign direct investment and seen the steady growth of the industry.
The Petroleum Regulatory Agency (PRA) was established by an Act of Parliament in 2014 to grant licenses, regulate the downstream sector among other key functions.
Before his appointment, nothing could be said of the Agency as the downstream petroleum sector lacked the required leadership needed to realize its full potentials despite its revenue strength. Having been in the corporate world for years with an outstanding and indelible financial performance record, President Bio saw Brima Baluwa Koroma as the best choice to deliver his ambition at PRA; an appointment which has added a cap to the feather of the Government's revenue mobilization initiative.
Chairman Koroma took over at a time when the sector was in desperate need of reform as unresolved challenges continued to impede the growth of the sector with weak investment appetite.
The sector was constellated with limited players, frequent supply disruption and declined government revenue.
Chairman Koroma has been able to turn the tides around through various reforms that have shaped and sanitized the downstream sector, by restoring investor's confidence and opening the market space for new players.
The open policy of the New Direction government has attracted new players like the All Petroleum Products that has constructed a 60,000 metric tons storage capacity and refurbished the country's second jetty.
With a steady growth in the country's daily consumption of fuel, new gas stations keep emerging on a daily basis across the country as the Agency poses to decentralize the sector. Is that not worth celebrating?
Through the political will of His Excellency President Bio, Chairman Baluwa has transformed the downstream petroleum sector by focusing on three critical areas; developing policies to open-up the market space and restoring fairness in the industry to all players to increase efficiency and transparency, focusing on initiatives to develop the petroleum industry infrastructure to attract new players for the possibility of resuscitating our oil refinery and constructing tank farms across the regions for product security and affordability, and by enforcing compliance through District Monitoring Officers on petroleum laws and tax commitments.
With fairness and transparency, the Agency has been punching above its weight by breaking its revenue generation target year-in-year-out despite global challenges.
This has made President Bio to have more trust and faith in Chairman Baluwa than detractors may think.
Before now, little or nothing was known about the performance of the downstream sector and the untapped opportunities available for investors. But transparency and accountability being the mantra of the New Direction, petroleum revenue under Chairman Koroma steadily increased from 2018 to 2021.
Those successes happened not because of additional taxation, but a proactive leadership demonstrated in monitoring the industry.
Despite the current fuel crisis rocking other nations, Sierra Leone has been able to rise to the challenge by ensuring the availability of products in the country with a stabilized sector.
Such a person at the helm of affairs deserves commendation which prestigious institutions are doing and not distraction.
Conferring honorary awards on deserving citizens across the world for their outstanding performances has never amounted to criminality which some self-centered and egoistic thinkers thought.
The achievements of Brima Baluwa Koroma will always be above any social media banter.