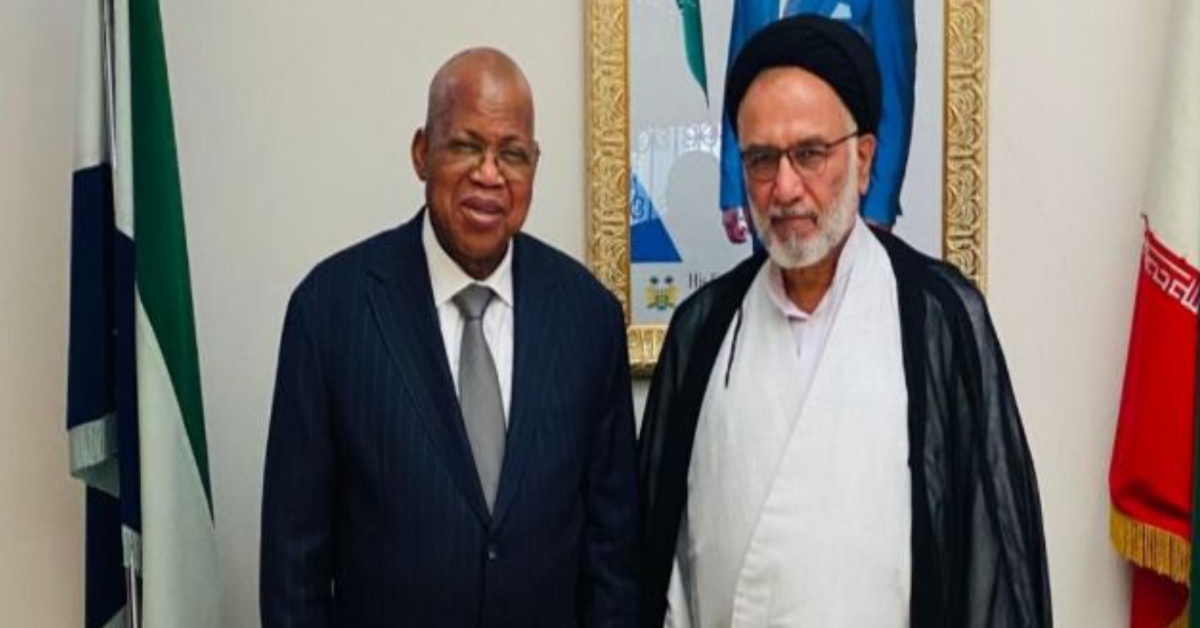 Newly Appointed Iranian Ambassador to Sierra Leone Pays Courtesy Call to Sierra Leone's Ambassador to Iran
The Iranian Ambassador-Designate to the Republic of Sierra Leone, Mr. Seyed Khalil Sadati Amir, has paid a Courtesy Call on the Ambassador of Sierra Leone in Tehran, H.E Ambassador Alie Badara Kamara.
During the visit the two senior diplomats talked about ways in which the bilateral relationship and cooperation between Sierra Leone and Iran can be strengthened by exploring business opportunities and increasing collaboration in the areas of Medical, Agriculture, education, health, Mines, Fisheries, and Tourism.
Mr. Seyed Khalil Sadati Amir assured the Sierra Leone Ambassador to Iran of his support in building up the lines of investment opportunities and the continuous strengthening of the bilateral relations between the two countries.
In Welcoming the newly appointed ambassador to Sierra Leone, His Excellency Ambassador Alie Badara Kamara congratulated Mr. Seyed Khalil Sadati Amir on his Appointment and assured him of his cooperation in working with him for the interest of the two countries.
He further expressed appreciation for the support the Sierra Leone Government received from the Iranian government through the Imam Khomeini Relief Foundation (Iran red crescent) during the height of the fight against the COVID19 Pandemic.
HE Alie Badara Kamara encouraged Ambassador Seyed Khalil Sadati Amir to work with the Sierra Leone Embassy in Iran whenever he wants to take investors to Sierra Leone.
In his response, Mr. Seyed Khalil Sadati Amir, assured his colleague that as the Iranian Ambassador to Sierra Leone, he will work with the Government and the People of Sierra Leone to further strengthen the bilateral cooperation while also expressing his desire to closely collaborate with the Sierra Leone Embassy in Iran.
He promised to engage the Iranian government on the points raised by H. E Ambassador Alie Badara Kamara.
He acknowledged "the level of exceptional hospitality exhibited by Sierra Leoneans towards Iranians for so many years" while referencing the quality of governance shown by H.E Dr. Julius Maada Bio's administration, especially in the fight against corruption.
The bilateral ties between Sierra Leone and the Islamic Republic of Iran have existed for decades. The two countries have enjoyed cooperation along the lines of trade and investments.
H.E Ambassador Kamara assured his colleague of support in the diplomatic community and the foreign ministry and wished him the best in his new assignment.