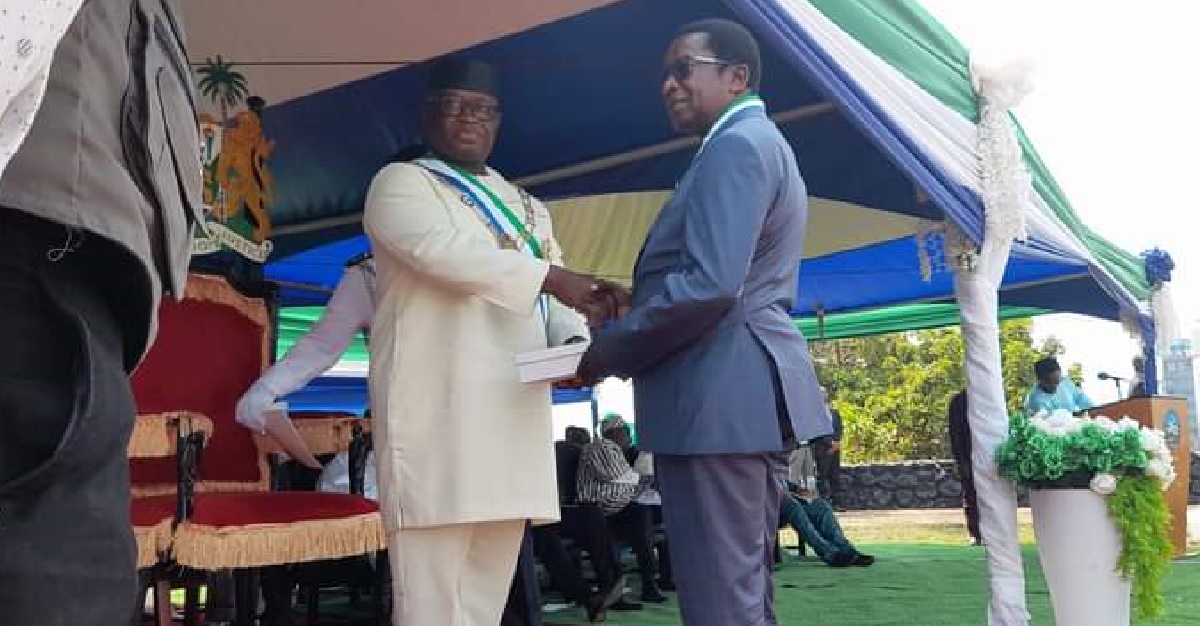 President Julius Bio Decorates Dr. Prince Alex Harding at The State House
The National Chairman of the ruling SLPP, Dr. Prince Alex Harding has been decorated with the Commander Order of the Republic of Sierra Leone (CORSL) award by H. E. Julius Maada Bio at the 2022 Insignia and awards ceremony at the State House.
Congratulations Dr. Harding for being a worthy recipient of the CORSL.
Thank you President Julius Maada Bio for such a wonderful gesture to a man who has led in the transformation/ election of two SLPP Presidential candidates from opposition to the State House: Alhaji Ahmed Tejan Kabba(late) and His Excellency in 1996 & 2002 and H.E. the President, Dr. Julius Maada Bio(current) in 2018.
Dr. Prince Alex Harding is a product of Bo School and King's College London, London University where he obtained the terminal degree of Ph.D. in Chemistry with bias in Petroleum. he has served as lecturer/Tutor at his alma mater in London and Fourah Bay College, University of Sierra Leone and worked as Executive Chemist at National Petroleum in Sierra Leone.
He has served as Minister in various Ministries namely Mines and Transport and Communications. At the communications Ministry, he transformed the industry from Public to Private ownership and from Monopoly to Competition.
Dr. Harding has served as member of National Defence Council and Chairman of the then National Power Authority. On the Political Front, he has served the SLPP and national Secretary-General, where he led a team to win two Presidential/Parliamentary elections (1996 and 2002) and the local elections (2004) when 16 local councils out of 19 were controlled by the SLPP.
He has also acted as Deputy National Chairman and leader and is currently the National Chairman and Leader of the SLPP under whose leadership the SLPP has taken the reins of power with Rtd. Brig. Julius Maada Bio emerging as President of Sierra Leone.
As it is clearly evident, Dr. Prince Alex Harding is politically and professional equipped to carry forward the Agenda of the New Direction.