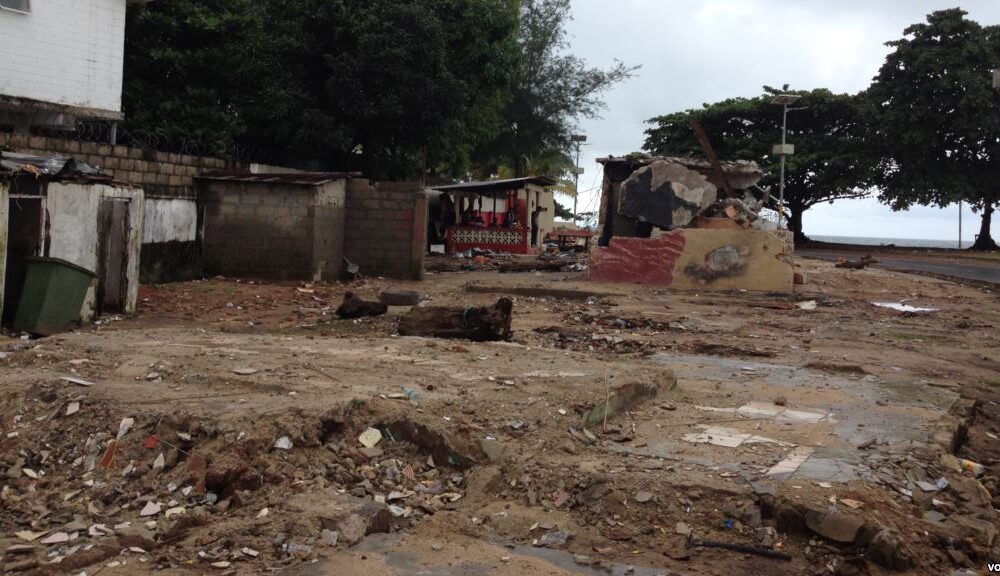 Kabasa Lodge Demolition Leaves Over 1000 Homeless
Police officers have demolished over 50 structures around the vicinity of Kabasa Lodge, west of Freetown, leaving approximately 1000 people homeless, Concord Times reports.
Residents say armed police officers stormed the community last Friday, apparently with a court order to evict residents at 51 Kabasa Lodge, and that they were not given time to remove their properties.
The court order, which was shown to this reporter, was signed by a Freetown magistrate whose name does not appear on the document, but who is believed to have been adjudicating in a matter between Dr. Jengo Stevens and residents of 51 Kabasa Lodge.
Dr. Stevens is the son of former President Siaka Stevens and an adviser in the Office of the Vice President.
Kabasa Lodge, which is atop Juba Hill, was built by his late father, who is reported to have bequeathed it to him.
Mamusu Conteh, a widow of four children, told Concord Times that police officers fired a teargas canister into her makeshift home which left one of her children in a critical condition. She said the land they were occupying was bought by her late husband and was not part of the No.51 Kabasa Lodge the court had ordered the police to demolish.
Alusine Sankoh, who occupies a five bedroom structure around the giant Kabasa Lodge, explained that on Friday evening armed police personnel and some youths came to the community and vandalised his home, destroying property estimated at millions of Leones.
"When the police arrived at my house they fired teargas canister twice to scare us away. They broke the windows, doors, and my other properties valued above Le80 million," claimed Mr. Sankoh.
"As law abiding people, we have approached our councilor and he has advised us to take court action, which we will soon do. The only document shown to us was for No.51 Kabasa Lodge and that document was an order from a magistrate court, not even the High Court."
Also, Ibrahim Koroma who suffered a similar fate as Sankoh, said he was surprised at the attitude of the police who went on to evict hundreds of residents from their homes even though the court order indicated No. 51 and not the entire community.
When Concord Times contacted the Deputy Under-Sheriff of the High Court of Sierra Leone, Umaru K. Conteh, to clarify the authenticity of the eviction order purportedly signed by a magistrate, he referred this reporter to the Master and Registrar who declined prior knowledge of the eviction notice, thus referring us back to the Under-Sheriff.
Conteh, however, refused to talk to Concord Times on the issue and therefore asked the reporter to check again today.