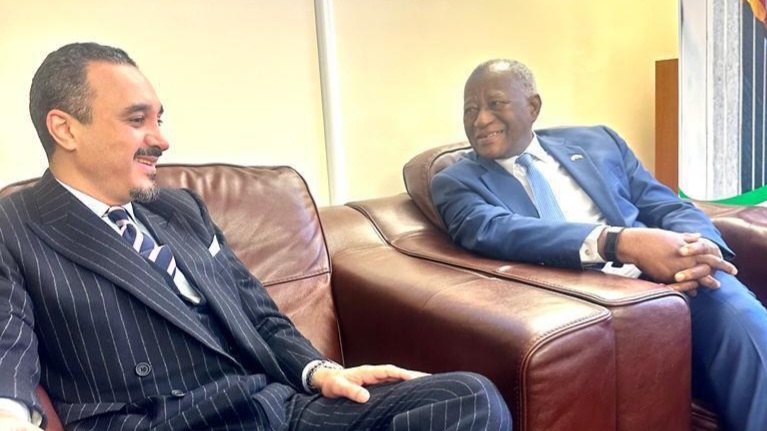 Saudi Arabia Ambassador to UK Visits Sierra Leone Mission in London
Sierra Leone's High Commissioner in London, His Excellency, Dr Morie Komba Manyeh on Thursday 25th January received in his chancery office, His Royal Highness, Prince Khalid bin Bandar Al Saud, Ambassador of the Kingdom of Saudi Arabia to the United Kingdom of Great Britain and Northern Ireland.
The two diplomats had fruitful discussions on various bi & multilateral subjects of mutual interest to  Saudi Arabia and Sierra Leone.
It could be noted that despite being a hot desert terrain, the Kingdom of Saudi Arabia has successfully used science and technology to transform itself into a leading exporter of fruits and vegetables, among a variety of farm products.
Saudi Arabia is also pushing ahead in many areas of scientific endeavour and has been providing cutting-edge healthcare facilities and services in the Kingdom.
Through hard work and perseverance, the country is growing into a global point of reference and a hotspot for progress and achievement.
During the cordial discussions, Dr Manyeh exposed that His Excellency President Julius Maada Bio was passionate about working with friendly nations like Saudi Arabia to unlock its national and international goals.
High Commissioner Manyeh thanked Ambassador Prince Khalid bin Bandar Al Saud for the visit and expressed Sierra Leone's appreciation for the support and potential support from the Kingdom, in a variety of sectors, including the provision of scholarships and the traditional hospitalities accorded to Sierra Leoneans during the Muslim Pilgrimages of Hajj and Umrah.
Credit: Information Attaché, Sierra Leone High Commission, London.