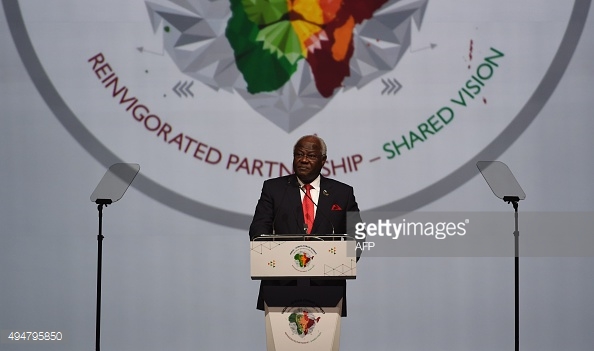 President Koroma's Speech at India-Africa Forum Summit 2015
President of the Republic of Sierra Leone, Ernest Bai Koroma is one of the African leaders who is currently in India to attend the Third India Africa Forum Summit.
India is hosting an unprecedented gathering of Africa's leaders as it ramps up the race for resources on the continent, where its rival China already has a major head start.
Koroma in his Speech at the Summit on October 29th 2015, highlight Sierra Leone's strides in the fight against Ebola and also showcase the country's efforts at economic growth and business and investment potentials.
Read Full Speech Below..
---
Your Excellency Narendra Modi,
Excellencies Colleague Heads of State and Governments,
Distinguished Delegates,
Ladies and gentlemen
Let me join my colleague Heads of State to express sincere thanks and appreciation to our gracious hosts, His Excellency the Prime Minister, the Government and people of the Republic of India for the warm hospitality since our arrival in this beautiful and historic city of New Delhi, and for the excellent hosting of this third India-Africa Forum Summit.
This Summit offers an excellent opportunity for the Continent of Africa and the Sub-Continent of India to build upon our historic and fraternal South-South Cooperation.
Africa is inspired by India as a great model of technological advancement, research and development. We seek to nurture this inspiration in harnessing our continent's resources for growth, stability and development. Africa is ready for business, and prepared to build synergies for trade and investment. We seek a win-win partnership based on public sector facilitation and private sector centrality.
We applaud India's leadership in advancing the cause of the global South within the frameworks of the Group of 77 and China, the Non-Aligned Movement, the Commonwealth, the G-20 and the United Nations.
Today the International community is discussing and acting on climate change, environmental degradation, desertification, light weapons and the fights against terrorism, human trafficking, drugs and piracy. These are critical concerns for Africa and India. Our populations are not only the more at risk, but they are also the least able to weather the devastating effects of these trans-border events. With nearly half the word's population, India/Africa synergies on these matters is central to the future of humanity. With the biggest youth populations, our people are becoming the mainstay of humanity's progress, they are the future of our species, and we must cooperate to secure that future. India and Africa must build a great partnership to deliver on the Sustainable Development Goals.
That future must also be based on democratic and inclusive global institutions. It is in this light that we seek India's support, as the world's biggest democracy, for Africa's quest for a more inclusive United Nations.
This is why, Excellencies, as coordinator of the African Union Committee of Ten (C-10) on the Reform of United Nations Security Council, I would like to use this platform to solicit the support of India for Africa's bid for two permanent seats in the UN Security Council with all the privileges involved, as enshrined in Ezulwini Consensus and Sirte Declaration.
Your Excellency Prime Minister Modi, we applaud India's support for peace, stability and growth in Sierra Leone. India's contribution to United Nations Peacekeeping operations helped bring lasting peace to Sierra Leone and many other parts around the globe. Today, my Government contributes troops and supports peacekeeping operations in Africa and other lands. We seek partnerships with India in furthering this important arm of global stability and peace.
Excellency Prime Minister Modi, Sierra Leone and India share great ties. Many persons of Indian descent call our country home, sharing in the successes and challenges of everyone else in Sierra Leone. They have served as great bridges of friendship between the peoples of Sierra Leone and India. Let me take this opportunity to salute them for their immense contribution to Sierra Leone.
We are inspired by India's adherence to democracy, and its impressive growth in recent years. Your country has been wonderful in sharing the experiences and gifts of that growth with us in the energy, agriculture and other sectors.
Excellency Prime Minister Modi, as you are aware, a little over a year ago the Ebola epidemic struck our region.  The evil virus struck at a time when Sierra Leone was being commended for its remarkable progress in ensuring peace, stability and steady economic growth. The outbreak has taken a heavy toll on the entire socio-economic fabric of Sierra Leone and its neighbors. But with support from our international friends, we fought back. Today, we have almost defeated the evil virus.  We have had no cases of the disease for nearly two months now, and we are just days to Sierra Leone being declared Ebola Free by the World Health Organization. We have designed a Post Ebola Recovery Program prioritizing health, education, social security and economic resurgence through promotion of the private sector. As a great innovator of health products and programs, education, ICT and agriculture in the developing world, we seek India's support in ensuring success in these areas.
I have come with a delegation comprising members of my government and business executives with a view to harnessing bilateral frameworks for cooperation. Already Indian owned businesses are thriving in Sierra Leone, including our largest Telecoms operator, Airtel. Greater opportunities for excellent returns to investment partnerships between Sierra Leone and India businesses exist in the agriculture, mining, energy and infrastructure sectors.
Sierra Leone is ripe for recovery and growth; we urge India's participation in the immense possibilities of our recovery. Africa is taking off; we applaud India's partnership in Africa's re-emergence. Africa is now a champion of reforms, inclusion and growth at continental, sub-continental and global levels; we seek India's continued cooperation in these worthy causes.
I thank you for your kind attention.