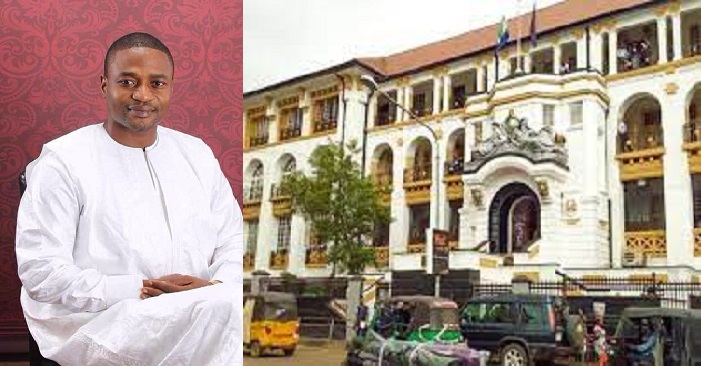 "I Will Send You to Jail" – Government Lawyer Threatens Witness For Testifying in Support of Kamarainba
The prosecutor in the ongoing child sex abuse trial of former Sierra Leone presidential candidate on Tuesday, intimated and threatened to jail a key defense witness.
TV-News24 witnessed State's Prosecutor Umu Sumaray telling defense witness Tamba Erick Fomba that she'll jail him today, Wednesday.
"I am going to make sure you are sent to jail tomorrow for lying in this court. Just wait," Sumaray said.
The incident occurred outside the presence of Judge Samuel Omidale Taylor of The Judiciary of Sierra Leone – who'd already adjourned the matter for today, Wednesday, and left the bench.
Media, lawyers, and the public were leaving the courtroom, likely heading home, when Sumaray spoke to Fomba – who just slightly smiled.
But defense attorney Amadu Koroma told Fomba, the witness, not to listen to the prosecutor.
Prosecutors say on Feb. 14, 2020, Mansaray conspired with co-defendant Marion Aruni – and allegedly had sexual intercourse with a then 15-year-old secondary schoolgirl. The accused persons have denied all allegations.
It's alleged that the crime occurred at Diamond Lodge Hotel in Kono district, east of the country. And Fomba had earlier testified that he was (and still is) the manager of the hotel.
In testimony on Tuesday, Fomba said he was on duty at the hotel on Feb. 14, 2020 – but didn't see Mansaray at the hotel, nor saw his name in the hotel's ledger book. In fact, he says, he's never seen him at the hotel.
However, on cross-examination, Sumaray showed Fomba prior signed statements he'd made to police, and then pointed that they contradicted his given testimony under oath. And while on the stand, Fomba agreed with the prosecutor.
However, when he attempted to expand on his answers to the prosecutor's questions, the judge stopped him – and ordered that he should only provide answers to the questions asked.
The defense then told the witness not to worry – and that he'll have a chance at redirect, to explain further.