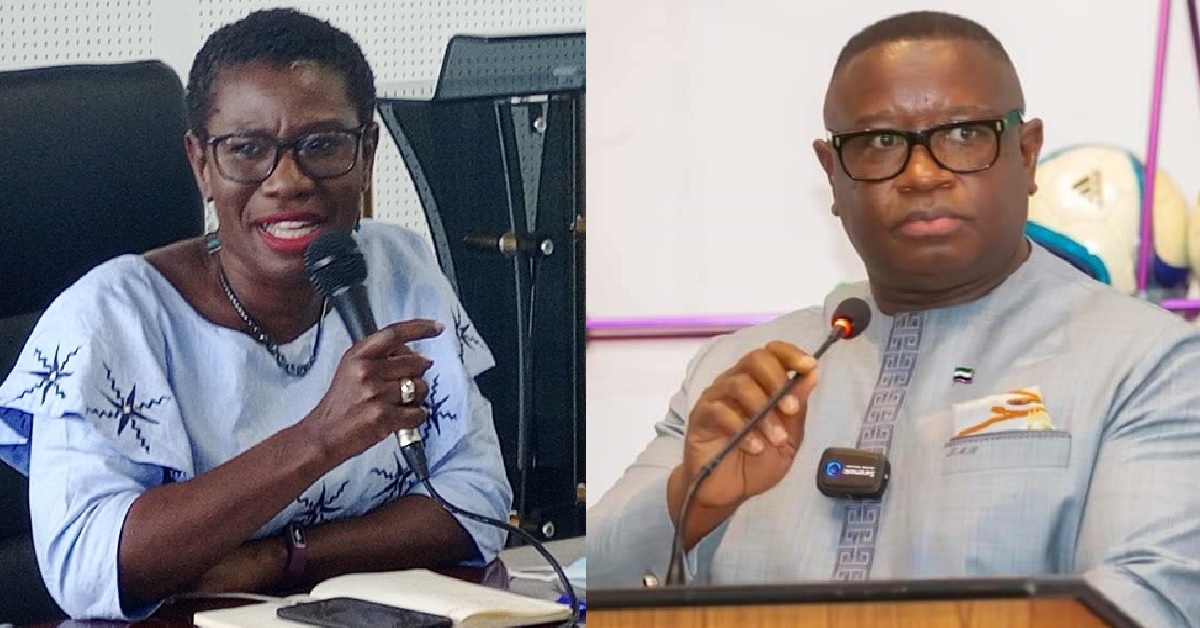 "I Am Ready to Collaborate With Maada Bio's Government" – Mayor Yvonne Aki-Sawyerr Declare
The Mayor of Freetown, Her Worship Yvonne Aki-Sawyerr has assured the people of Freetown that she is ready to work with Central Government. She made this statement on 29th September, 2021 on a Press Conference at Freetown City Council Administrative Building.
She explained about the challenges she is going through with the Chief Administrator of Freetown City Council (FCC), Festus Kallay.
As the mandate of FCC to keep Freetown clean, she said it's disappointing to her to see how the streets of Freetown dirty. She made it clear that no one is happy to see the city dirty. Everyone would like to see Freetown as clean city. Her Worship confirmed that they are going through all these challenges because the Chief Administrator has refused to sign and approve some documents. "We have tricycle youth groups that are responsible for the sweeping of the streets of Freetown. They have been receiving their salaries through a funding from World Bank but since the payment was transferred to FCC, their payments have been delayed", she added.
Mayor also talked about the transfer stations that were constructed to around the municipality of Freetown. According to her, the transfer stations were constructed for easy access of tricycle groups to dispose garbage temporarily. Since they were opened, the Chief Administrator has refused to approve the operation of the transfer stations.
She added that, they as elected officials for the Municipality of Freetown are ready to work the Central Government. Her Worship confirmed that, they received money from the Central Government for the operation of Council and there are other monies that are coming to Council. She assured the public that there is money to pay tricycle groups but CA has refused to sign the cheque for August and September.
Councillor Abdul Karim Fofanah of Ward 445, Chairman for Communication at Freetown City Council emphasized the challenges they are going through that he wants Freetonians to understand. He said their mandate as elected officials is to make policies that will seek the interest of the people. He added that Le54,000,000 cheque was signed by Her Worship Yvonne Aki-Sawyerr before leaving for England. The essence of the money was to clean the cemeteries which was given to the newly transferred Environmental Sanitation Officer (ESO), Mustapha Kemokai. According to Abdul Karim, the money has not been provided and the work has not been done. "When we reach out to him for the money, he said he has been fired with a witch gun". He added. Councillor Abdul Karim added that they were expecting him to delegate the task to Deputy ESO, Sorie Kamara but he never did.
"We have reported many issues to the Ministry of Local Government as the governing body of councils about the challenges we are facing with the Chief Administrator but no action has been taken. We the elected officials we are ready to serve our people but we have been stopped by the Chief Administrator. With all our reports and letters submitted to different institutions especially Local Council Government, we haven't got any positive feedback from them, instead Local Council Government sent a team of people to investigate the activities in the council. We have given a 21-day ultimatum to get respond from Local Government or else we will launch a peaceful protest." He described the action of CA as political witch hunt.
Councillor Sheku AG Turay of Ward 408, Chairman for Urban Planning and Development also stressed on the challenges they are facing with the Chief Administrator. According to him, they have a funding from Japanese Government for the construction and opening of clinics at Rokupa and other areas. The clinics should have been opened on December 2020 but CA and Local Government Minister, Tamba Lamina have refused to participate in the opening of the clinics also to disburse the fund. He accused the CA and Minister of holding the operation of clinics into ransom. It is bad to dilute development and politics.
Councillor Sheku added that, the CA always boast that she was appointed by the First Lady and he not answerable to anyone at Freetown City Council. "We have called for his transfer but no action has been taken. He has not been talking to Her Worship for the past 3 months." He added.
"A colleague of us had a trip to travel to Switzerland, the CA refused to sign the document for him to travel to Ivory Coast for his visa. Another colleague had a trip to travel to Germany, the CA also refused to sign the document until the intervention of extra people. You cannot hold us into ransom because of politics. If our complains are not adhere to, we are ready to take action". He affirmed
Councillor Mohamed Dabor of Ward 436, Chairman for Budget and Finance added that the tricycle youth group that are sweeping the streets of Freetown have been left without August and September salaries. During their protest, they promised them that they are working on their payment for August and September. With all the agreement they made with tricycle youth groups, they have not pay them for August and September. "This is the thing that is affecting the operation of Freetown City Council.
"What causes the infighting is because Mayor brought a new system that allows the property rates money to go to one account. Because of the system, a lot of people became angry including the CA himself as the new system blocked leakages. Developmental issues in our wards, CA has refused to sign documents to approve them. He is not always in his office and he is not answering our calls." He explained.