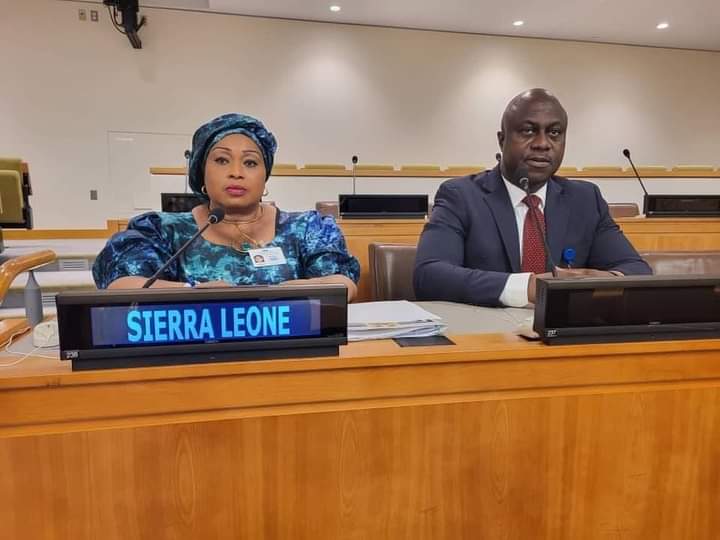 Gender Minister, Manty Tarawalli Presents Sierra Leone's Gender Report to UN Commission on The Status of Women
Committee Room One (1) at the United Nations Headquarters in New York, USA was full to the brink on Wednesday 16th March 2022, when the Minister of Gender and Children's Affairs, Hon. Manty Tarawalli presented the country's Gender Report to the United Nations Commission on the Status of Women, (CSW).
The Sixty-Sixth Session of CSW brought together representatives of Member States, UN entities, non-governmental organizations (NGOs) from all regions of the world to share best practices on achieving gender equality and the empowerment of all women and girls in the context of climate change, environmental and disaster risk reduction policies and programs; as well as women's economic empowerment.
While delivering the national statement on behalf of the government and people of Sierra Leone, Hon. Manty Tarawalli explained that Sierra Leone is making steady progress and will continue to take concrete strides towards the attainment of the aspiration of making the country a better and safer place for all women and girls as contained in the 2030 agenda for Sustainable Development goals.
She said Sierra Leone has a Gender Equality and Women's Empowerment Bill awaiting enactment by the national Parliament and when enacted into law, it will make a huge shift in addressing the gender imbalances in the political, social, and economic fields. She further stated that the government of Sierra Leone has also developed a two-year project, designed to establish sustainable structures that will facilitate the development and tracking of gender-disaggregated budgets and integrate gender issues into every sectoral policy, legislation, and programme, adding that they have intensified the fight to end all forms of violence against women and girls.
"I think it is but proper to inform this august body that Sierra Leone's GEWE agenda is driven by no less a person than the President of the Republic, H.E. Dr Julius Maada Bio. A testament to the fact that for us, it is no longer business as usual. Gaps still exist, no doubt, but we can proudly state that our efforts are already yielding dividends on both the domestic and international fronts," she said.
The Minister concluded that measures such as the development of the Male Involvement Strategy for the Prevention of SGBV, the introduction of an Integrated Sexuality Education within the basic education curriculum, the operationalization of a Free Rape Help Line and One-Stop-Centers for the provision of free comprehensive survivor centered services for SGBV, the establishment of Sexual Reproductive Health (SRH) Hubs to cater for adolescent-friendly family planning and other SRH services; as well as the establishment of the first-ever Sexual Offences Model Court to address rape cases in record time are major steps taken by the government in putting issues of women and girls on top of the national development agenda.