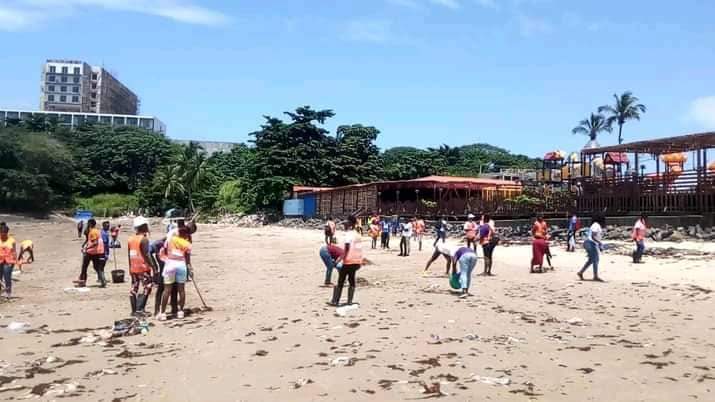 Minister of Tourism Organises Cleaning Exercise of All Beaches in Sierra Leone
The indefatigable and most dedicated and committed Minister of Tourism and Cultural Affairs, Dr Memunatu Pratt has organised a robust cleaning exercise in all the beaches in the country so as to give tourism a new face.
Madam Pratt alongside the General Manager of the National Tourism Board- Madam Fatmata Koroma, Deputy General Manager- Mr Jeffery Moijoi, Director of Culture- Mohamed Jalloh have all been instrumental in the cleaning exercise.
Today large numbers of people led by the charismatic Minister were on Lumley beach helping to remove all garbages, debris, empty cans and what-have-you from the beach and taken away to some waiting trucks to be deposited in the garbage centers around the city.
The exercise came at a time when the country is being admired by tourists all over the world for being peaceful, economically progressive despite the Corona surge and its people being so tolerant and respectful.
The numerous interventions undertaken by Minister Pratt to bring tourism industry to this height cannot be catalogued in this piece for save of time.
What we will not leave out though in this piece is the Budapest expedition which saw over 700 tourists trooped into Sierra Leone from Hungary in Europe to boost up tourism in mama Salone in early 2019.
The donation of 70 fishing boats to fishing Communities in the country is a feat that needed the minister's commendation for her resilient and love for the country.
In essence, the cleaning of our beaches has indicated first and foremost the visionary and industrious leadership of the Minister and the zest she has injected into the tourism industry geared towards rebranding tourism in the country.
All put together, Dr Memunatu Pratt is the first among equals in all succeeding governments to boost tourism industry in Sierra Leone to the highest height.