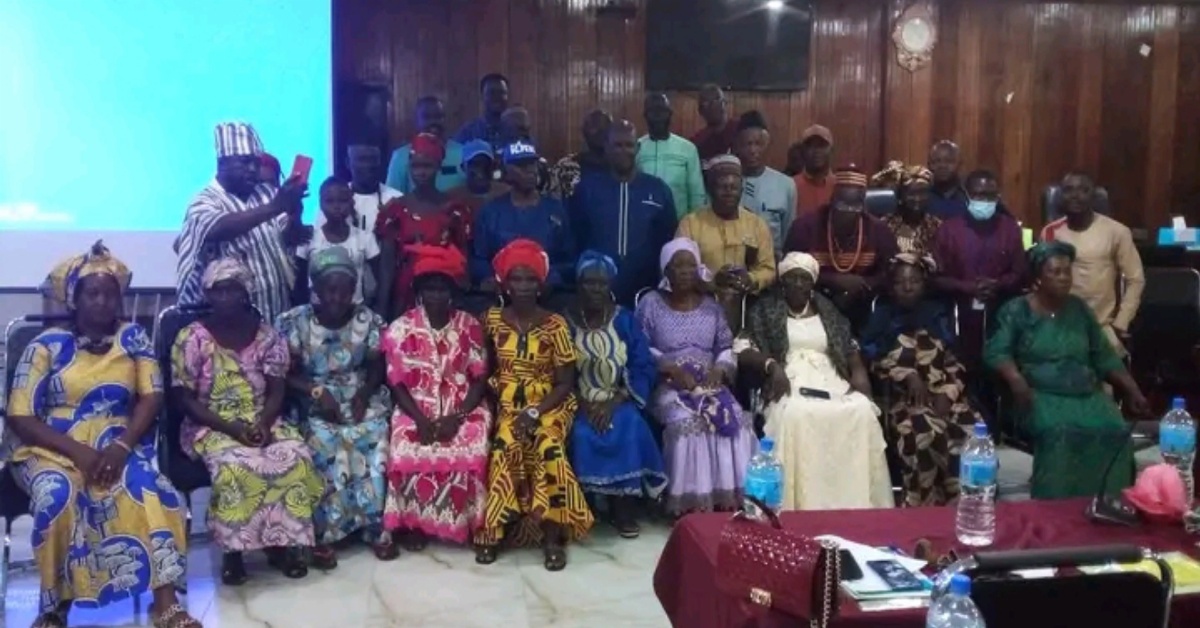 Ministry of Planning Engages 40 Paramount Chiefs on Population And Development And National Population Policy
Forty (40) Paramount Chiefs and Traditional Society Leaders were engaged by the Ministry of Planning and Economic Development (MOPED), with support from the United Nations Population Fund (UNFPA), on Friday 23rd September 2022 at the International Conference on Population and Development (ICPD) and the National Population Policy (NPP) at De Wizard Conference Hall, 62 Dambala Road, Bo City.
Among the Paramount Chiefs and Traditional Leaders in attendance was Paramount Chiefs Hon. Haja Meima Kajua-Koroma of Mano Dasse Chiefdom, Moyamba District, Matilda Minah of YKK Chiefdom, Pujehun District, Sahr Mbriwa II of Feima Chiefdom, Kono District, Cyril Foray Gondor of Kailahun District, Kandeh Finnoh III of Gbembembu Ngowahun Chiefdom, Bombali District, and PC Pewa of Kenema District.
The Paramount Chiefs and Traditional Leaders lamented that they are not respected, that the institution is undermined, that despite the free quality education, schools are inadequate, that Paramount Chiefs are not consulted in the implementation of projects in their communities, and that majority of them do not have health centers, that if the country's cultural and traditional practices should be abolished alternatives should be provided.
According to the PCs, unlike in the past, they have different professionals among themselves who are capable of implementing development projects in their various communities and that if they fail to effectively implement projects they should be reprimanded, that they are the only institution that ended the Ebola outbreak despite the experts from abroad, pointed out that there is political interference in their work, that some Members of Parliament do not recognize them and that they must be members of District Councils.
The PCs further highlighted the deplorable road conditions, that they no longer receive the Chiefdom Development Fund and appealed for speed boats in riverine communities, and pledged to disseminate the policy to their respective subjects nationwide.
Betty Alpha of UNFPA revealed that Paramount Chiefs have a large constituency, that UNFPA was pivotal in the ICPD conference, and the conference aims to reduce poverty to sustainable development, set the pace to achieve universal access by 2025, reduce maternal mortality, that no woman should die while giving birth, have access to family planning, stop gender-based violence observing that men have enormous powers that they should use to protect women.
She also revealed that Sierra Leone should not be left out of the global development trend and that UNFPA wants to reduce maternal deaths, improve access to family planning, reduce maternal deaths, and prevent gender-based violence informing that Sierra Leone has one of the highest rates of infant mortality, called for a law on child marriage and pledged UNFPA's continued support to the government of Sierra Leone.
Peter Koroma, Program Specialist at UNFPA said they are implementing the 7th Country Program document, articulated that their programs are aligned to that of government development plans from 2020 -2023 to among others strengthen the reproductive health system, increase knowledge on sexual reproductive health and rights in communities, build the capacity of institutions like parliament, support entrepreneurship, agricultural, education for data development, comprehensive emergency services for women and obstetric fistula.
She continued that they want to also translate policies into action, support innovation to address problems, empower youths, women, the disadvantaged,d and physically challenged, that they have trained over 1,300 midwives in Bo, Freetown,n and Makeni, that they provide 95% family planning products in the country and that 800 pregnant girls have been integrated into schools.
Earlier, Mr. Gabriel Dumbuya of MODEP gave an overview of the workshop while Mr. Bindi, Chairman of the Bo District Council, welcomed participants.
In his address, the Deputy Development Secretary (MODEP), Mr. Gabriel Dumbuya underscored that the participants are the link between the people and government, that without chiefdoms there would be no Sierra Leone affirming that agreements signed by the government internationally should be domesticated and cascaded to the people at all levels informing that participants were carefully selected.
He enlightened that the engagement is for participants to identify the challenges in the implementation of the ICDP and NPP and proffer solutions and commended UNFPA for the support.
Dr. Robert Moikowa of MOPED disclosed that the National Population Policy (NPC) emphasizes that no one should be left behind, that the policy is to effectively manage the population reiterated that Paramount Chiefs are custodians of the country's tradition,s and assured that the government is committed to the policy.
The vote of thanks was rendered by Dr. Nabieu Yillah from Magbema Chiefdom, Kambia Chiefdom while the question and answer session climaxed the highly interactive session.