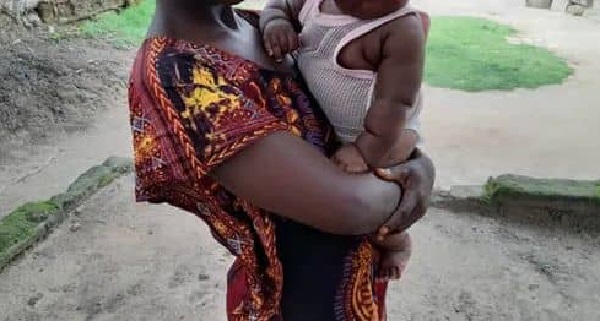 Teenage Mother Takes 2022 NPSE Exams in Sierra Leone After Giving Birth 4 Months Ago     
17-Year-old Janet Blackie,(Not her real Name) a class six pupil of the Seventh Day Adventist Primary School (SDA) of Negbema, Nyawa Lenge Chiefdom in Bo District was among the many pupils who sat to this year's National Primary School Examination in the country.
Janet gave birth some four months ago before taking the NPS Examinations slated for 7th May 2022.
She was sixteen years old when she was impregnated by a young boy residing in the same community. With government Inclusive Education and the lifting of ban on pregnant school girls, Janet was allowed to continue her schooling through the support of NGO Equality Now, through their partner organization WAVES.
Janet is hoping to pass her exams and enter secondary school by the next academic year.
"Been a teenage girl and become pregnant has not been easy for me. I had problem with my parents and my father nearly pushed me away into the street. But thank God that an organization called WAVES came to my rescue by reaching out to my parents and advising my father not to disown me, she said".
This 17-year-old teen was able to go back to school while she was pregnant and was able to pull through.
She gave birth early late in January of 2022 after which she continues her schooling. She was able to sat to the just concluded NPSE
"I was pregnant but was still going to school. It has not been easy as I was provoked by my friends and community people. But with all of these I never relent as there were organizations like WAVES who always visited the community and school to check on me and other girls who had similar situation, Janet noted".
Janet is now among pupils that advocate and speak out on issues affecting girls in her community.
She called on peers to stay away from sexual activities while going to school as his will disturbed their schooling.
"I would not have been able to continue my schooling if the ban on pregnant school girls was not lifted. This is also possible because WAVES as an organization has created what is known as safe space for girls where we go and study and learn a number of things.
She said in the safe space girls are thought to stay away from activities that will be a barrier to their education and wellbeing.
Janet is now a suckling teen mother but awaits the NPSE results that is due later this year. She now has time to care for her baby during this period and while waiting, this teen mother still goes to the safe space on daily basis as part of preparation for her next challenge after the NPSE results would have been released.
She said girls impregnated while in school still have chance to go back to school and continue their schooling.
Janet however, cautioned that the ban lifted is not a license for girls to start having sex which will lead to pregnancy that will disturb their school activities.
Janet is still challenged because of her baby. The teen mother has to breast feed while at the time studying. Caring for the baby is one big challenge she now faces but with support from WAVES she is coping with the challenges on daily basis.
The Executive Director of WAVES, Madam Hannah Yambasu speaking on progress made so far said a lot has change because of their advocacy and work with communities within their area of operation.
"Our advocacy has change lot of communities. Most people are now bold to report issues of Gender Based violence, sexual assault and lot more. Our work in communities is yielding fruit and we also work with the Family Support Unit (FSU) on matters of gender-based violence and assault on women, she said".
Madam Yambasu noted that Janet case is just among the many they continue to deal with noting that the safe space created in community is helping girls to take their studies seriously and build abused girls to restore their dignity. Madam Yambasu noted that Janet case is just among the many cases they continue to deal with noting that the safe space created in community is helping girls to take their studies seriously and build abused girls to restore their dignity.
"Equality Now uses the power of the law to bring lasting change for girls. We do this by advocating for repeal of discriminatory laws, enactment of just laws and implementation of the just laws to protect all women and girls from violence and discrimination. We are happy that the Government of Sierra Leone has continued to support girls' education after lifting of the discriminatory ban. However, we are still working with the government and other key stakeholders to ensure girls are safe in school and in communities. Until this is fully achieved, we shall never relent," Jean Paul Murunga- Programme Officer – End Sexual Violence, Equality Now.