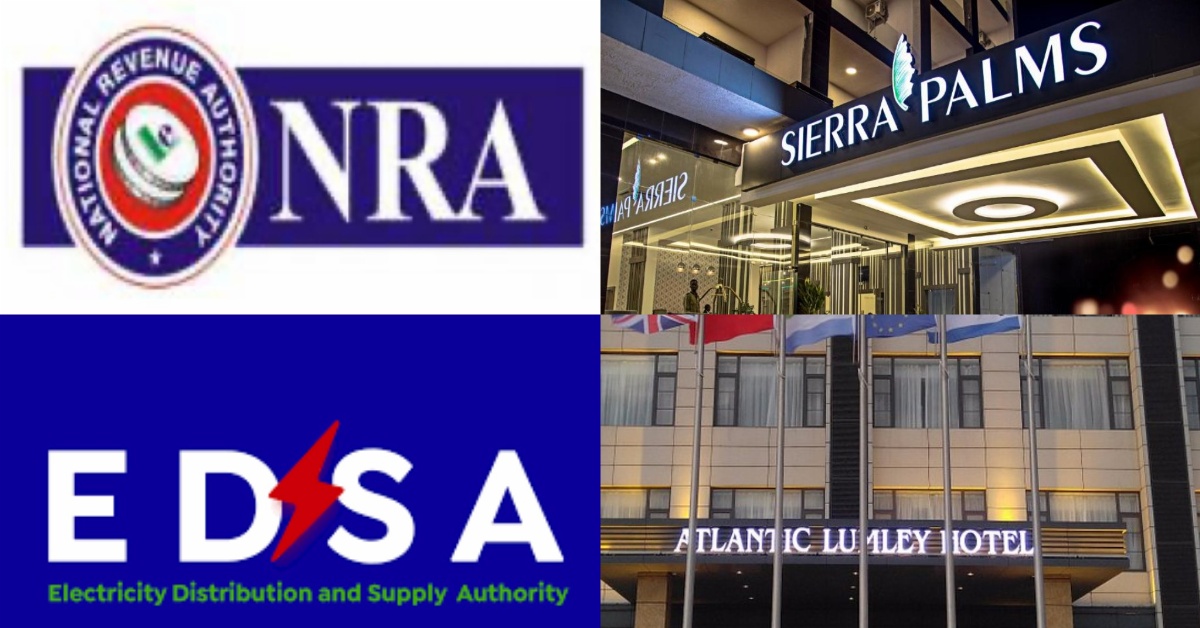 NRA Slams EDSA, Others With Nle250,000 Fine
Sierra Leone's National Revenue Authority (NRA) has slammed a NLe250,000.00 fine on the Electricity Distribution and Supply Authority (EDSA) and host of other companies in the country for failing to comply with their Electronic Cash Register (ECR) System.
In a notice issued on Wednesday, the NRA disclosed that some companies in the country, Including; EDSA, Sierra Palms, Atlantic Lumley Hotel, Sea Coach, Commodities Trading Company, and others have failed to complete the integration process with the Electronic Cash Register system on the due date of 1st May 2022
NRA revealed that the under listed taxpayers failed to integrate or complete the integration processes with the ECR System on the final deadline which was the 2nd January 2023, a date that was jointly agreed by the Authority and the affected taxpayers in a meeting held on 16 December 2022 at 19 Wellington Street, Freetown.
NRA further disclosed that the refusal of these companies to integrate with the ECR System has been construed by the Commissioner-General as impeding tax administration contrary to provisions in the Goods and Services Tax Act 2009 as amended in the Finance Act 2021 and Electronic Cash Register Regulations Act 2021 for which a maximum penalty of Le 250,000.00 (Two Hundred and Fifty Thousand New Leones) has been imposed by the Commissioner-General together with an administrative assessment of potential revenue loss during the period of non-compliance with the provisions of the law.
NRA noted that the Le 250,000.00 penalty should be made within 72 hours from the notice to avoid enforcement actions as prescribed by law.
Below are the defaulted taxpayers slammed With the Nle250,000 fine:
1. Print Point (SL) Ltd. 11 Ahmed Drive Aberdeen
2. Rainbow Paints and Chemicals.3 Wallace Johnson Street
3. Sea Coach Express. Off Sir Samuel Lewis Road
4. Sierra Leone Cement Corporation. 1 Betts Street, Cline Town
5. Sierra Palms Hotel. 75 Lumley Beach Road
6. Atlantic Lumley Beach Hotel. 84 Lumley Beach Road
7. Ericson A-B Sierra Leone. 37 Siaka Stevens Street
8. Commodities Trading Company Ltd. 3 Wallace Johnson Street
9. Electricity Distribution & Supply Authority-EDSA. Murray Town
10. Sierra Leone Brewery Ltd. Wellington Industrial Estate
11. Deli Frost. 9 Rawdon Street
12. Huawei Technologies (SL) Ltd. Cape Road Aberdeen