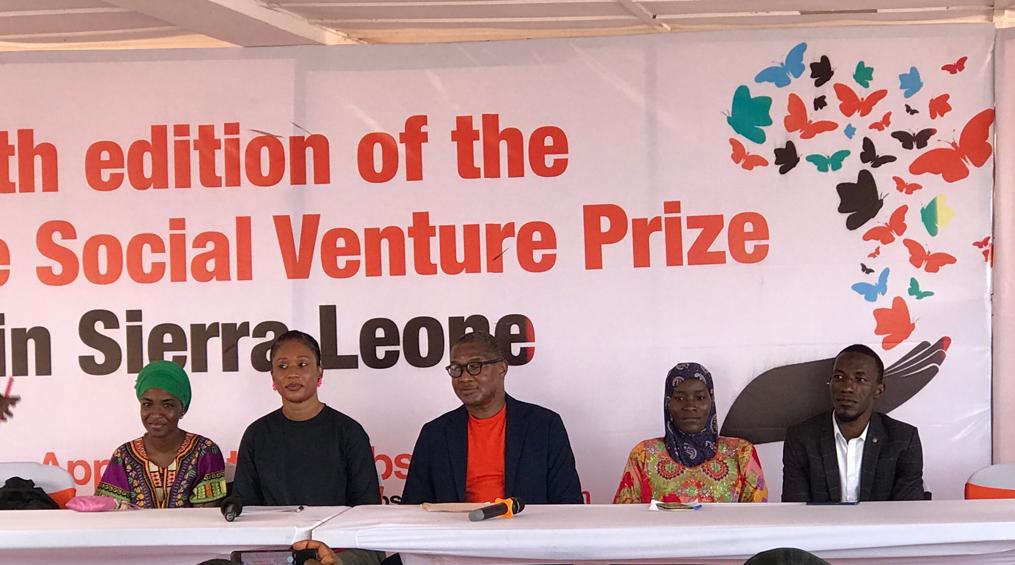 Orange Sierra Leone Launches 4th  Edition of Its Social Venture Prize Competition
Orange Sierra Leone has today Launched the 4th  Edition of the Orange Social Venture Prize Project at their Head Quarters at Imatt in Freetown.
At the launching, The Head of Public Relations, Orange Sierra Leone, Annie Wonnie Katta, Gives brief explanation as to why the OSVP was initiated and how Sierra Leoneans have benefitted, according to her, Orange Sierra Leone initiated the Orange Social Venture Prize to reward the best technological project with positive impact and solution to social challenges mainly in the fields of Education, health, Agriculture, mobile payment of sustainable development in Africa and the Middle East.
She furthered that the competition is organized annually in all seventeen Orange affiliates in OMEA and that the three winners from each of the seventeen countries gets an opportunity to compete in a grand international contest where one out of the 51 contestants emerges as the winner and bags a whopping sum of 25 thousand euros.
"Orange Sierra Leone has successfully held three National Competition In 2019, 2020 and 2021. The 2019 winner Aminata F Kondeh and the 2020 winner Mbayoh Turay won Le10,000,000 and  Le20,000,000 respectively, to support the growth of their businesses. Today Aminata is a proud owner of a thriving Agro-Fish Farm in BO, while Mbayoh Turay is now gainfully employed by Orange as a trainer in our Orange Digital Center where he is providing his expertise in coding and mentorship to young aspiring innovators. Last year, we assimilated the tempo of OSVP with the support of our partners in innovation Sierra Leone, to  bring more meaning into the innovation axis and increase empowerment for young startups, innovators, entrepreneurs in the country. Out of a total of 128 Africans,  Haja Isatu Bah- Owner of Woman for Woman emerges as winner of 2021 with a prize of Le100,000,000" she proudly stated.
She added that this year they poised to spend a 150,000,000 with the two categories of the OSVP competition in which 100,000,000 will be the general prize and 50,000,000 for the female category.
2019 Winner of the OSVP, Aminata F Kondeh shares how she benefitted from the OSVP; " Orange came in very handy, I did not only won the money but I also gained a lot of attention from people through out the country and the money as well boosted my business as I was only having one pond before the competition, but now I have nine fish ponds with 1000 fishes"
She ended by encouraging women to be part of the OSVP and prove that they can do it.
2020 Winner of the OSVP, Mbayoh Turay, said because of OSVP he now has a 40 acres of land where he plants rice.
2021 Winner of OSVP, Haja Isatu Bah of Woman for Woman, as a producer of reusable sanitary pads testified how Orange helped her generate  her idea into a sustainable business. "After the competition, I did  not only won 100,000,000, I got a lot of exposure. Initially when someone wanted 500 pads, we found it difficult to mobilize for that amount but with the Orange venture, we were able to order pads, sell and order more. Orange didn't just gave me the money and forget about me, they ask me how everything was going, what have i done etc. I believe that the quote of Benjamin Franklyn which says "tell me I forget, teach me, I may remember and involve me and I will learn", is exactly what Orange is doing, they make sure you understand what you get"
She ended by advising people out there with ideas to be open up as there are people who are ready to help them generate their ideas into a sustainable business.
Mohamed Kallon of the Marketing department, rap up the event by thanking the organizers, the winners and all attendees of the launch.