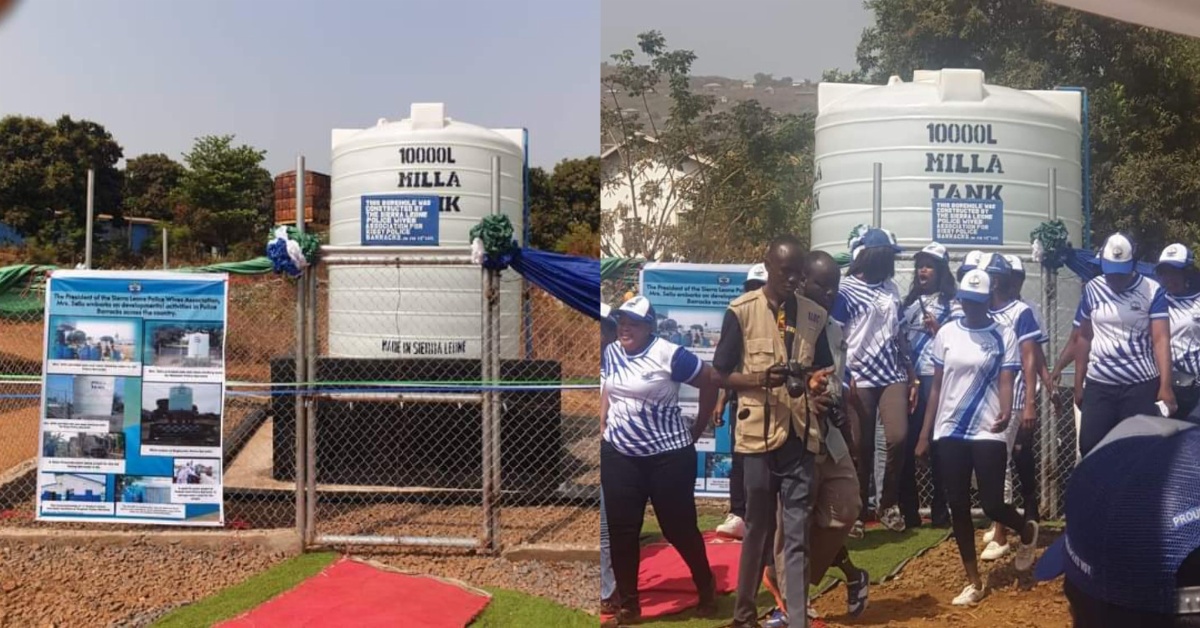 Sierra Leone Police Wives Constructs Solar Power Boreholes in Freetown
The Police Wives Association headed by the Wife of the Inspector General of Police (IGP), Mrs. Doris Fayia Sellu has constructed a solar power borehole at the Kissy Police Barracks in Freetown.
On Tuesday 28th February 2023, the Inspector General of Police together with the Minister of Water Resources Philip Karimu Lansana, and Deputy Minister of Internal Affairs Lahai Lawrence Leema commissioned the constructed solar-powered boreholes to provide safe, reliable, and affordable water for in the eastern part of Freetown.
Speaking at the commissioning ceremony at Kissy Police Barracks, the President of the Police Wives Association Mrs. Fayia Sellu said, as soon as she took leadership of the Association she took a tour of all the 36 Police Barracks all over the country to check the most pressing needs of the barracks and discovered unavailability of water supply was the most pressing one in almost all of the barracks.
She said, after several consultations with the members of the Police Wives Association they decided to organize a fundraising carnival to raise funds for the construction of solar power boreholes in the barracks.
She revealed that they raised about 300 million Leones from the proceeds which was just a tip of the ice bag.
Sellu continued that with the help of the Police Management Board and other well-wishers, they were able to construct a solar-powered borehole at Magburaka Police Barracks, Kossoh Town Barracks, Jui Barracks, Allen Town Police, Bo Police Barracks, and Kissy Police Barracks.
The Inspector General of Police (IGP) William Fayia Sellu while making a statement said the Police Wives Association has proven to be a force to reckon with as the issue of water in the different barracks across the country has been a decade-old problem.
He called on them to be more united as with their support more great things await them that are geared towards the livelihood of them and their husbands.
The IGP further disclosed that the Chinese Embassy in Sierra Leone has agreed to construct one Borehole for Makeni Police Barracks and another at the Kenema Police Barracks.
He encouraged the beneficiaries to take good care of the facility so that it will be with them for a long period.
The Deputy Minister of Internal Affairs, Lahai Lawrence Leema called on the Police Wives Association to continue doing more and be united for the good of the institution. He called on the Police chief to continue to support more such projects which will boost the morale of the force.
The Minister of Water Resources Philip Karimu Lansana confirmed that he will work with the police to make sure that Police Barracks are connected to the main grid from Guma and SALWACO as it was done in the past to make sure that all the Police Barracks countrywide benefit from the main grid.