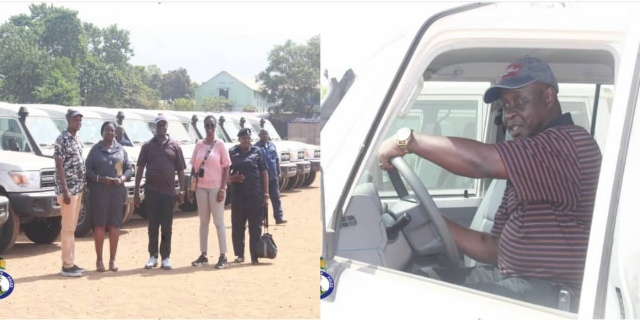 Sierra Leone Police Boosted With 17 Vehicles Ahead of June Multi-tier Elections
Sierra Leone's Inspector General of Police, William Fayia Sellu has over the weekend monitored 17 brand new vehicles donated to the Sierra Leone Police (SLP) in order to bolster their operations ahead of 24 June 2023 multi-tier elections at. 
During his inspection tour, the IGP Sellu noted that, the vehicles would be used judiciuously to man as well as move police personnel around the country for operations.
He not that the 17 vehicles are intact and road-worthy; adding that the vehicles came in at just the right time the force needs them so badly.
Away from the inspection tour of the vehicles, on Saturday, the police boss, visited the land property of the SLP situate at Hanga, Jui police barracks and the Kissy barracks respectively in the east-end of Freetown.
He, together with few members of the Police Executive Management Board inspected the lands owned by the police, and addressed all and sundry, particularly, trespassers to vacate the police premises or face the full-force of the law.
The police chief used the tour opportunity to admonish a cross section of members of the OSD personnel in the places he visited regarding professionalism and discipline.
He underscored the essence for every police officer to be peaceful, law-abiding and apolitical as the country gradually gets closer to its sixth democratic elections come June 24, 2023.
IGP Sellu promised his personnel of providing for them quality health care services so that they would be healthy, noting that, it is only when someone is healthy, that he/she will be able to do his or her job perfectly.
He called on more support to bolster the capacity of the police force, stating that it is only when the police has the necessary gadgets that will empower them to provide robust security for every citizen in the State.