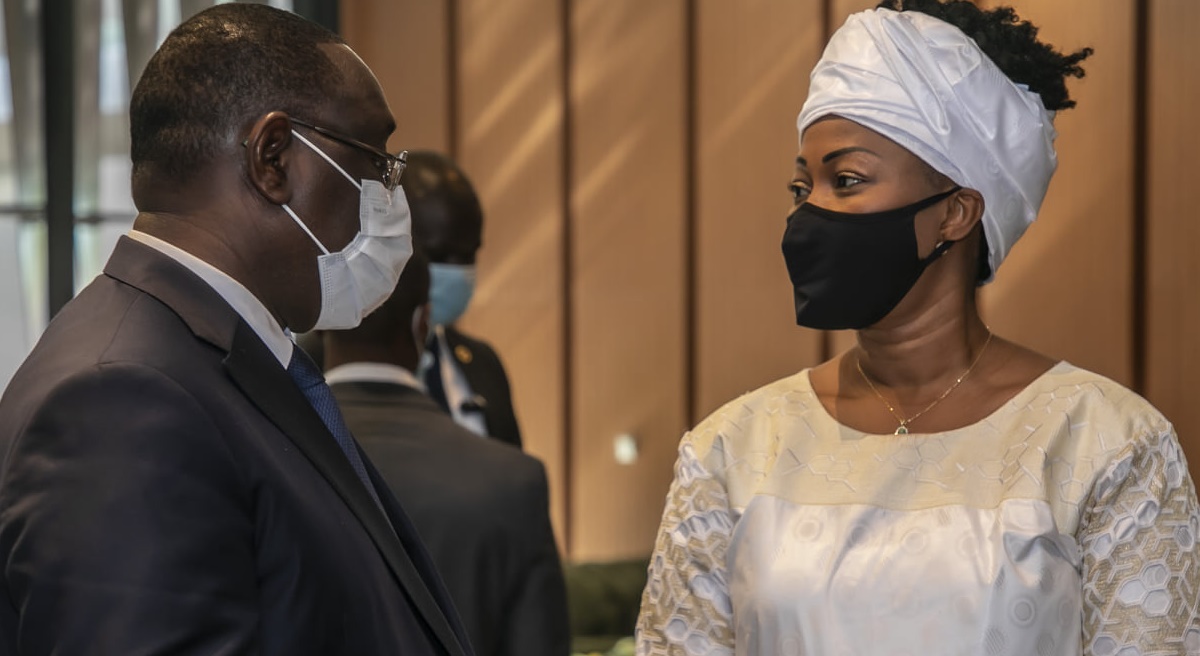 President Macky Sall Salutes Fatima Bio
The President of the Republic of Senegal, H.E Macky Sall and the Executive Director of UNAIDS, were among world leaders that have expressed admiration for the passion and success stories of the First Lady of the Republic of Sierra Leone in the fight against HIV/AIDS through various campaigns including the Hands Off Our Girls and Sanitary Pads Campaigns.
In the presence of the President of Senegal, H.E Macky Sall, who was the High Chief Patronage of the West and Central Africa Regional High-Level Summit on HIV/AIDS, and other world leaders, Mrs. Fatima Maada Bio, who was recently commissioned as the UNAIDS Education Plus Initiative Champion, challenged African Leaders to solve the problems of their countries, as according to her, the solutions to African problems lie in the hands of African Leaders and its people.
She said the fight against HIV/AIDS would not be won if the campaign continues to focus on outcomes and not the root causes. Mrs. Bio argued that the root causes of HIV/AIDS include sanitation, rape, lack of education and early marriages, among others, while noting that her Hands Off Our Girls and Sanitary Pads campaigns are contributing immensely towards the fight against HIV/AIDS.
Mrs. Bio urged the African Leaders to unite and criminalize early marriages, as according to her, early marriage is no different from rape.
The First Lady used the forum as an opportunity to eloquently outline President Bio's agenda for Human Capital Development which focuses primarily on education and girl child health and protection. She highlighted that Sierra Leone is currently spending 22% of its national budget on education, way above the global threshold.
She called on the stakeholders to pump more resources towards the fight against HIV/AIDS to avoid the resurgence of another pandemic.
In response, the UNAIDS Executive Director, Madam Winnie Byanyima described the First Lady as an inspirational and result oriented leader in the fight against HIV/AIDS and support for young girls.
"Your compelling speech touches my heart," she pointed out, while reiterating the need for comprehensive sexuality education as earlier outlined by the First Lady.
She described Sierra Leone as the champion for the Education Plus Initiative as the West African nation has made tremendous progress already in at least three out of the five major targets of the initiative.
She called on other African countries and leaders to emulate the footsteps of Sierra Leone by accelerating support towards the fight against disease and illiteracy.
While acknowledging the significant role of Sierra Leone's First Lady in the fight against HIV/AIDS through her campaigns, the President of Senegal renewed his commitment to the global campaign and called on other African Leaders to do more.