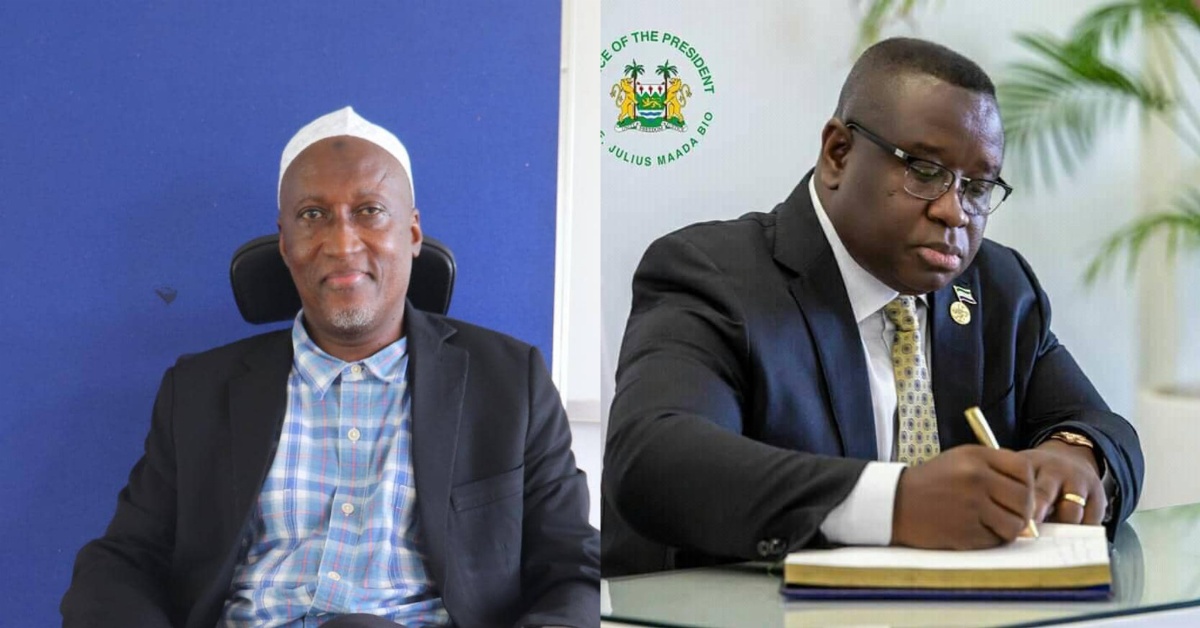 SALWACO Boss Commends Staff And Management For Upholding President Bio's Vision
The Chairman, Board of Directors at the Sierra Leone Water Company (SALWACO) has said that a lot of developments have taken place and are still taking place in the Water Sector in Sierra Leone. Ing. Mohamed Alieu Jalloh made this disclosure during an exclusive interview on Thursday September 22nd, 2022 at his Tower Hill Office in Freetown.
He said that SALWACO has a wider mandate of providing safe drinking water in all parts of Sierra Leone, with Freetown as an exception, adding that the daunting task comes with a lot of sacrifices on the part of the institution. He said that the institution uses various forms in delivering its services.
Ing. M.A Jalloh furthered that a major success in the Water Sector was that a stand-alone Ministry of Water Resources was now in existence, stating that both the Ministry and the Company(SALWACO) now have a focus of realizing and achieving the vision of His Excellency, President Julius Maada Bio. He also spoke about the revised SALWACO Act of 2017 which he said has now created room for the establishment of several other institutional departments/units and for the first time, a Deputy Managing Director.
The SALWACO Board Chairman said that all of such reforms have added value to the Human Capacity Profile of the institution. Ing. Alhaji Jalloh also spoke about the massive improvement and investment from the Government of Sierra Leone in the water sector. He mentioned the four towns; Bonthe Water Supply and the Six Towns Water supply projects, furthering that there were now huge investments and improvements on network expansion, improving operations as well as the quality of services.
He reiterated that the fact that government was also using its own resources was a strong signal to donor and development partners to further see the need to continue to support Sierra Leone's Water Sector.
Ing. M.A Jalloh added that for the second year running, there had been the production of an Annual Report, which he said is an Annual Statutory Requirement. He described such as a landmark achievement, referring to the report as credible and welcoming.
The Chairman also spoke on how a number of cities, townships and other smaller settings in Sierra Leone now have water projects, adding that SALWACO will continue to reach out to more and more places. He said that Gravity Schemes, Hand dug Wells, rain water harvesting shemes and Solar Powered Boreholes have been completed in Kono and that places like Bonthe, Moyamba, Kabala, Port Loko, Magburaka, Lungi, Kambia, among others were now having various water projects.
He also spoke about plans to construct a new Water Supply System for Koidu Town and that the Water Supply Station at Blama was now at an advanced stage. He added that various forms of supports have also been provided to various other ministries, departments and agencies with respect to water and sanitation.
On the challenges, Ing. M A Jalloh said that even with all of the disclosed success stories, the fact that new towns and centers keep showing up will continue to constrain SALWACO to respond to growing demands as soon as possible and or as expected. He therefore said that the increase in demands and the growing population were some of the unavoidable challenges in the water sector.
He said the government of Sierra Leone through the leadership of President Bio is also currently funding the Bonthe Water Supply Project which he said, is in its completion stage and that the Six Towns Water Supply Projects are also up and running. The six beneficial towns include, Kambia, Magburaka, Kabala, Moyamba, Pujehun and Kailahun.
He called on all and sundry to desist from embarking on activities that disturb the free flow of water, adding that the lesser the challenges, the better things will be for SALWACO and the country at large.
Ing. M.A Jalloh ended by thanking the leadership, staff and management of SALWACO for what he described as a job well done and called on all to continue to work towards the realization of the aims and aspirations of government and President Bio.