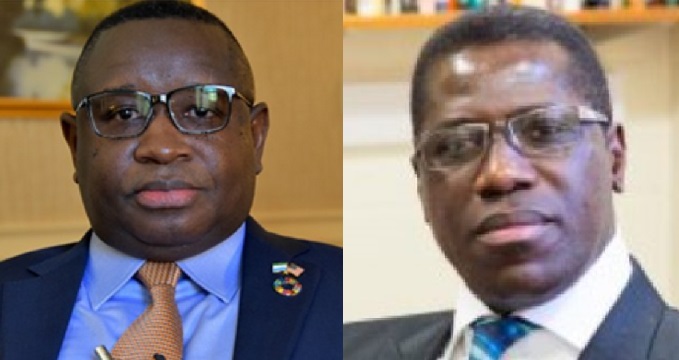 4 Sierra Leone Diplomats Allegedly Abandoned in Miami
Sierra Leonean diplomats attached to the country's consulate in Miami in the United States have been abandoned by the Government of Sierra Leone and the Ministry of Foreign Affairs and international cooperation.
The four diplomatic staff members, names withheld, are legitimate employees of the aforementioned line ministry, who were post to Sierra Leone consulate in Miami by the government through the ministry with the responsibility of placing foreign service staff.
The abandon diplomat is reportedly being inhumanely treated by their mission in Washington, the ministry of foreign affairs and government as a whole.
With such maltreatment ranging from withholding of their take-home salaries to other allowance due them, continues to cause they and their families to suffer in silence. Speaking collectively to his medium on condition of anonymity, they claimed to served the sierra leone consulate in Miami for over six months. They said they had never received a single cent of their salary not of their allowance, as part of their entitlements from the ministry of foreign affairs and the finance ministry.
"We have worked for the embassy in Miami as consulate in Miami for six months, but we have not received salary for our services as legitimate employees of the Ministry of Foreign Affairs," they explained.
As a result, the Sierra Leone diplomats in question are merely serving on handouts they earn from begging goodwill people. "Our lives have been subjected to imposing destitution because government has just ignored and abandoned us here," one of them told this medium.
Recent media report confirm that the diplomatic staff members assigned to the SIEERA leone consulate in Miami are not looked after at all by the Sierra Leone embassy in Washington and the Ministry of Foreign Affairs.
According to The Times SL, the Minister of Foreign Affairs Prof. David Francis, could not be reached after several attempts to get his ministry's official side on the issue.
However, a staff at the Ministry of Foreign Affairs, Edward Kawa, who is said to have worked with the Sierra Leone diplomats in Washington, was contacted for comment on the allegations. Kawa initially dispelled claims and allegations made by the four diplomatic staff members in Miami against the Foreign Ministry and the Sierra Leone embassy in Washington.
Kawa denied the allegations, saying "It's not true" that there are four unpaid Sierra Leonean Diplomatic staff working with the Sierra Leone Consulate in Miami. He refused to make further comments, saying: "I cannot say anything official to you now regarding whatever has been reported to you or whoever is insinuating that now. I will call right back in less than an hour 'time' "he dropped the line. But he never called back up to the time of going to press.
According to the reliable source from the consulate, the head of mission or Charged Affairs to Sierra Leone Consulate in Miami is presently in Freetown negotiating terms on the conditions of service of the four stranded and unpaid Sierra Leonean diplomatic staff members