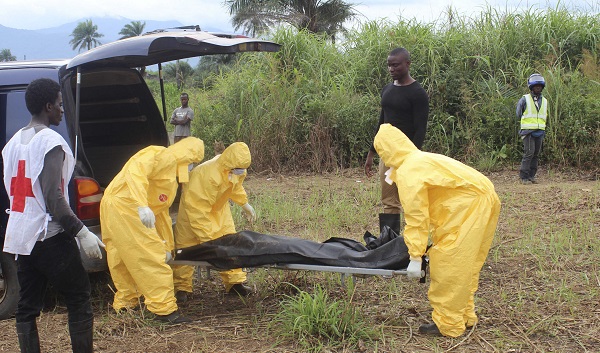 Panic in Sierra Leone as Government Speaks on Fresh Ebola Outbreak
The Sierra Leone Government said it has increased the health emergency response system to Level II in preparedness for a possible Ebola outbreak in the country.
This follows as Guinea reported 7 suspected cases of Ebola on February 14 in the southeast of the country, in an area close to the Sierra Leone borders creating fears that it could spread wider across the region, with early reports of a new case already in Sierra Leone.
Speaking to Sierraloaded over the weekend, Solomon Jamiru, the Spokesman for National COVID-19 Emergency Response Centre (NaCOVERC) noted that it was Ebola that prepared Sierra Leone effectively for the coronavirus pandemic, and they will not allow any reoccurrence to hit Sierra Leone anymore.
"We did not let down our guard as we are still fighting the coronavirus with every available technique and science available to us, and we were all around the Western Area over the weekend sensitising the populace of protecting themselves for corona. Now we have to raise the awareness now that Ebola is just around the corner and we must not allow it to cross and cause the havoc of 2014."
Jamiru said the Ministry of Health and Sanitation is assuring the general public that they will build on their expertise and experience to mount a solid response that not only prevents the reintroduction of Ebola into the country but should the virus be introduced, have a strong system that protects the lives of all Sierra Leoneans and interrupts the transmission of the virus.
ALSO READ:  Government Sacks Over 3,500 Workers From NaCOVERC
With the border with the Republic of Guinea currently closed, health authorities and local stakeholders in the districts bordering Guinea and Sierra Leone have been supported to heighten Ebola surveillance, and improve community awareness including appropriate preparedness measures. National Rapid Response Teams are being dispatched to provide additional support to the District Health Management Teams.
Meanwhile, Harold Thomas, the Communications Lead at Emergency Operations Centre said that health specialists  across Sierra Leone were always on their toes for a second wave of Ebola in the country.
"Already we have dispatched a team to the border districts close to the areas where the virus is in Guinea and we are in communication with our Guinean counterparts to keep abreast on the situation in Guinea. We are calling on all Sierra Leoneans to be alert and take all necessary measures not to allow ourselves to go down that road in 2015.", He said.