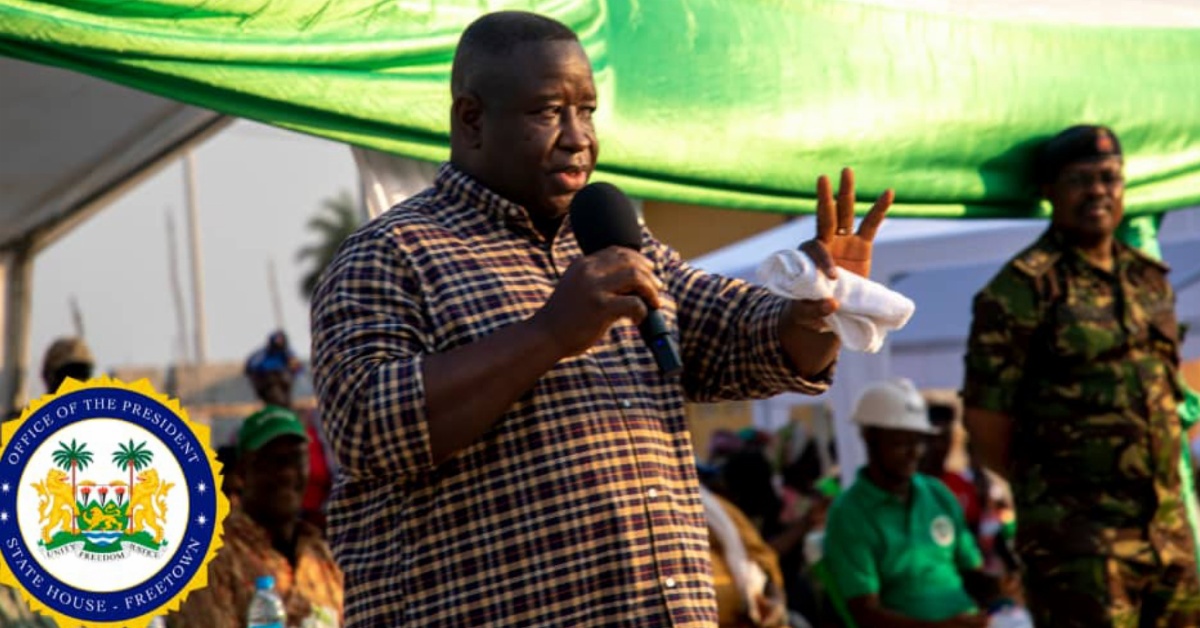 "I Have Changed The Negative Narrative About Sierra Leone" – President Bio
President Bio in his four days tour to the South has told residents of Fakunya Chiefdom, Moyamba District, Southern Sierra Leone, that in just four years, he has written off all the negative impressions that were once held by foreigners about Sierra Leone.
The president made this statement on Sunday, 22nd January 2023, at Moyamba Junction, where a huge crowd of supporters of the Sierra Leone People's Party (SLPP) gathered to listen to the president.
Bio said, "Before my term of office, all the world knew about Sierra Leone were war, blood diamonds, Ebola, corruption, and bad leadership. Today, just over four years, I have changed those narratives. Every Sierra Leonean is now proud to be called a Sierra Leonean because of the quality of leadership I have provided."
He continues that the country is on the verge of transformation and has been recognized for big things, and citizens are now proud of their country.
"I came to Moyamba District to ascertain whether the things I have done were visible on the ground. But, when I heard my report card from the Chairman of the Moyamba District Council, I was impressed."
The President evaluating his human capital development plan said the three pillars comprise agriculture, health, and education, noting that in the last four years, he has prioritized education but also given a boost to both the health and agricultural sectors.
He further spoke about the upcoming elections on 24th June 2023, and call on the crowd to vote for their progress and the future of their kids.
According to him, the world economy is in a poor state but politicians who are selfish would take advantage of that, promising that his second term will be dedicated to exploring the richness of the agricultural sector.
"When I come back as president for my second term, I will prioritize agriculture because treasure lies in the farm. We should not determine the prices of foodstuffs that were cultivated, packaged, and exported to us by foreign manufacturers. We must grow what we eat,"
He called on all present to take agriculture seriously to enhance their living standard and said he would use agriculture to fight against hunger and poverty.