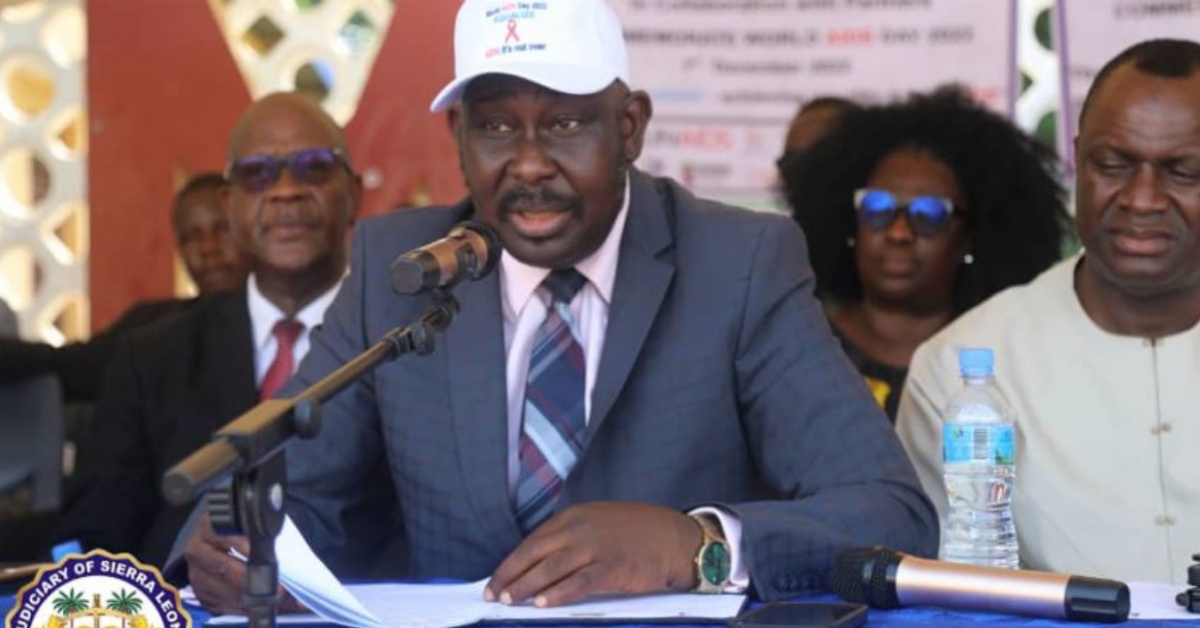 11.8% of Sierra Leonean Sex Workers Are HIV Positive – Chief Justice Babatunde Edwards
The Chief Justice of Sierra Leone, Desmond Babatunde Edwards has disclosed that 11.8% of sex workers in Sierra Leone are affected with HIV.
He made this assertion while delivering his Keynote address as the Guest of Honour in commemoration of World Aids Day on the theme: "Equalize: Achieving Equality to End AIDS."
Justice Edwards said that, although HIV prevalence among the general adult population remains low at 1.7%, prevalence among women is twice (2.2%) as high compared to the rate among men (1.1%) and even thrice as high for women and girls aged 15 to 24 years.
"The integrated Bio-behavioural surveillance conducted by the National AIDS Secretariat last year indicates that HIV prevalence is highest among sex workers (11.8), transgender (4.2%), people who use drugs (4.2%), men who have sex with men (3.4%) and people in correctional facilities (3.2%)," he said.
The Chief Justice, however said that uptake of HIV prevention and testing services remains low among these population groups due to high rate of stigma, discrimination, and arbitrary arrest that they face, which pushes them underground and contribute to the spread of HIV in the general populations.
He said that Section 15 of the1991 Constitution ensure the fundamental human right and freedom of every person in Sierra Leone, adding that the National AIDS Commission Act, No. 11 of 2011 guarantees the rights of all people in Sierra Leone to HIV prevention and treatment services and protections for people living with or affected by HIV.
He therefore made the following recommendations as actions for or by governments, civil society and international bodies to accelerate HIV and human rights:
Outlaw all forms of discrimination and violence directed against those who are vulnerable to or living with HIV or are perceived to be HIV positive. Ensure that existing human rights commitments and constitutional guarantees are enforced;
Repeal punitive laws and enact laws that facilitate and enable effective responses to HIV prevention and care and treatment services for all who need them;
Work with the guardians of customary and religious law so as to promote traditions and religious practice that promote rights and acceptance of diversity and that protect privacy;
Decriminalise private and consensual adult sexual behaviours, including same-sex sexual acts and voluntary sex work;
Prosecute the perpetrators of sexual violence, including marital rape and rape related to conflict, whether perpetrated against females, males, or transgender people;
Abolish all mandatory HIV-related registration, testing, and forced treatment regimens. Facilitate access to sexual and reproductive health services and stop forced abortion and coerced sterilisation of HIV-positive women and girls;
Reform approaches towards drug use. Rather than punishing people who use drugs but do no harm to others, governments must offer them access to effective HIV and health services, including harm reduction programmes and voluntary, evidence-based treatment for drug dependence;
Enforce laws against all forms of child sexual abuse and sexual exploitation, clearly differentiating such crimes from consensual adult sex work;
Ensure that the enforcement of laws against human trafficking is carefully targeted to punish those who use force, dishonesty or coercion to procure people into commercial sex, or who abuse migrant sex workers."
Justice Edwards reiterated the Judiciary's commitment in ensuring full protection of the rights of infected and affected Persons.
"We must take action to protect the rights and dignity of all Sierra Leoneans infected or affected by HIV and AIDS. We must work together to address all structural, legal and systemic barriers that drive inequalities and fuel HIV infections. We must commit ourselves to end all forms of HIV related stigma and discrimination to enable the country End AIDS as public health threat by 2030 as envisaged in the sustainable development goal. The time to act is now," he concluded.