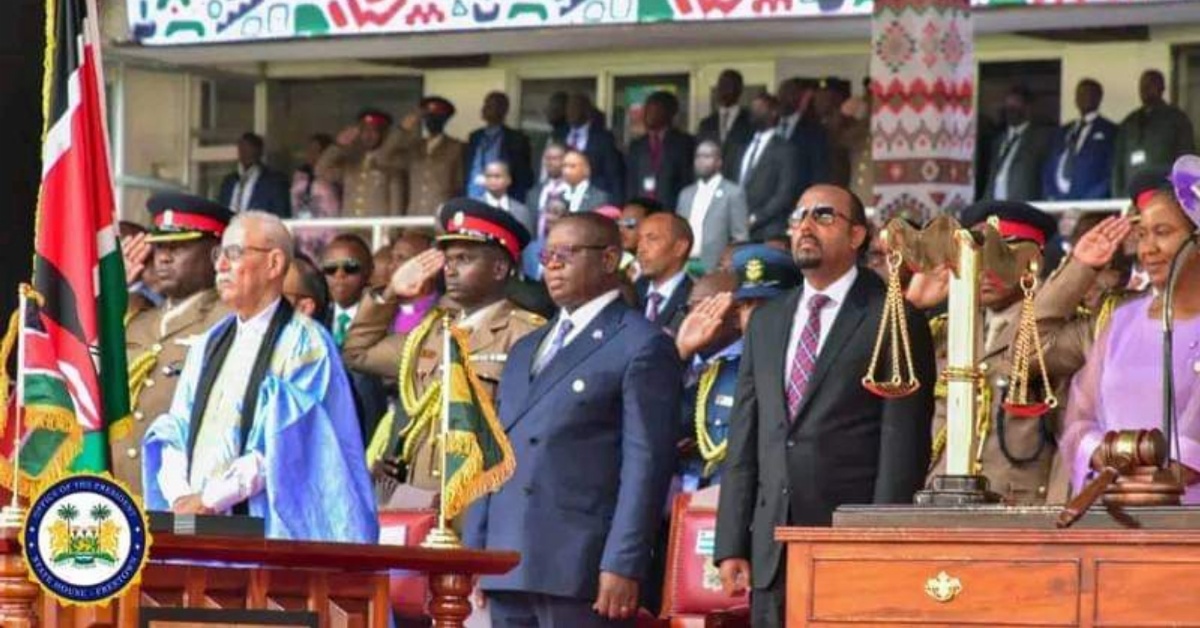 Sierra Leoneans React as New Kenyan President Forgets to Introduce President Bio
Earlier today, Sierra Leone's President, Julius Maada Bio attended the inauguration ceremony of the recently elected Kenyan President, William Samoei Ruto, at the Moi International Sports Centre, Kasarani, Nairobi. However, an unfortunate incident occurred when the Kenyan President forgot to introduce President Bio as one of the invited Heads of State. He also mispronounced the name of the President of Sierra Leone.
In a video shared on social made, President Ruto said that, "With a lot of apology, I have been informed that in our midst we have other friends who I did not mention. Allow me to introduce a good brother, His Excellency Julius 'Nado Baio', the President of Sierra Leone. Thank you very much your Excellency and you're welcome to Kenya."
Some Sierra Leoneans were quick to react to the incident on social media.
"Why Bio love to embrace himself with embarrassment to the extent our nation is always on the list of unwanted records," one user stated.
" Who is "Nada Baio"?" another user asked.
"So they didn't invite President Bio. What an embarrassment to our nation!" One user remarked.
Online media site, News Mogul posted that; "Breaking News: Sierra Leone's President Julius Maada Bio has been Embarrassment in Nairobi during President William Ruto's Inauguration
My take on this video it seems President Julius Maada Bio was not invited to the newly elected president of Kenya, William Ruto Inauguration, which made him unable to mention him during his introduction of Heads of States present at the event.
The Foreign Affairs by extension the Sierra Leone High Commission to Kenya should be held responsible for such classified embarrassment to the president and Sierra Leoneans as a whole.
What your take on this?"
Watch Video below: