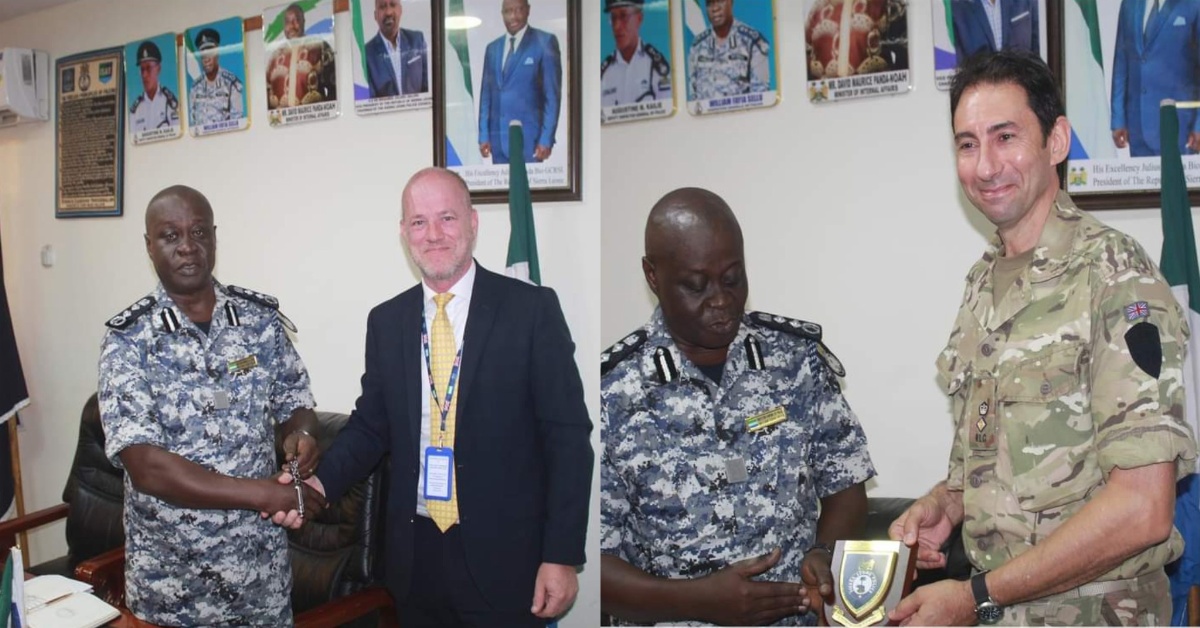 Sierra Leone Police Welcomes New ISAT Personnel Ahead of June 24 General Elections
The Executive Management Board (EMB) of the Sierra Leone Police (SLP) on Wednesday 1st March 2023 at the Police Headquarters conference room, welcomed two newly transferred personnel of the International Security Advisory Team (ISAT).
The transferred personnel welcomed by the Inspector General of Police, Mr William Fayia Sellu were Lieutenant-Colonel Gary Wolfenden and Chris Weigold who have come to Sierra Leone from the United Kingdom to work along with the security sector, especially the SLP ahead of the June 24 polls.
Meanwhile, EMB also bid farewell to the outgoing ISAT personnel, in the person of Lieutenant Colonel Rob Brown who demonstrated immense work output towards the Sierra Leone Police (SLP) during his tenure in Sierra Leone. EMB hopes that his successors would emulate the same.
AIG Mustapha Kamara and other EMB members lauded the coming of the newly transferred personnel and expressed their profound appreciation to the outgoing personnel for his enormous contributions, and wished him well in his endeavours.
The Inspector General of Police, Mr William Fayia Sellu expressed his profound gratitude to Lieutenant Colonel Rob Browne for his enormous contributions and he said he is looking forward to the new men emulating the same.
"On behalf of the SLP, I would want to extend my sincere thanks and appreciation to the British High Commission and we remain grateful", the IGP says
ISAT is a British team that seeks to augment and capacitate the security sector in Sierra Leone to expand the work output of the Security Sector.
The two newly transferred personnel will be liaising with the security sector for the successful conduct of the upcoming multi-tier elections in the country.