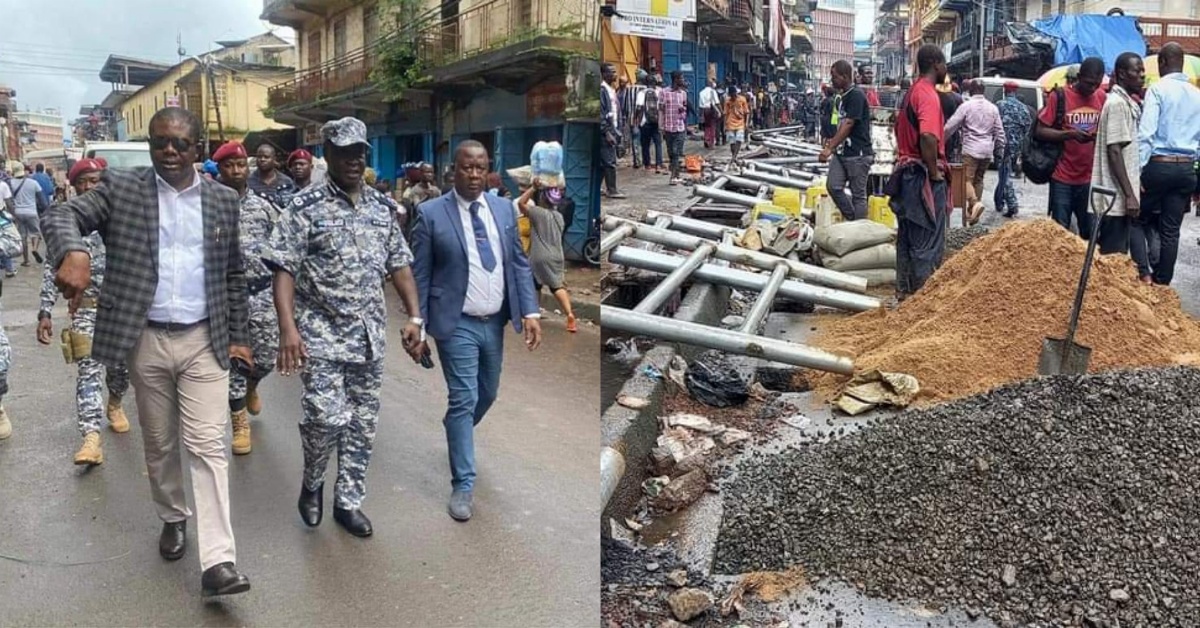 SLRA, SLP, RMFA Inspect Ongoing Erection of Guardrails at Abacha Street
The Sierra Leone Roads Authority (SLRA), together with the Road Maintenance Fund Administration (RMFA) and the Sierra Leone Police (SLP) on Monday, August 29, 2022, visited Sani Abacha Street to inspect the ongoing erection of guardrails along selected streets at the Central Business District in Freetown.
The erection of the guardrails is funded by RMFA and implemented by SLRA. The project aims to enhance a faster flow of traffic and ensure the safety of pedestrians and motorists alike.
The Inspector General of Police (IGP), William Fayia Sellu led the team of institutional heads including the Chief Executive Officer (CEO) of the Road Maintenance Fund Administration (RMFA), Mohamed Kallon, Director of Operations Sierra Leone Roads Authority (SLRA) Ing. Alfred J Momodu, and representatives of the Sierra Leone Roads Safety Authority (SLRSA).
Speaking on the visit, IGP Sellu disclosed that the purpose was to get first-hand information on how the project is doing and to assess the security strength.
"We are not implementing partner, our role is just to provide security to ensure the safety and security of the MDAs and equipment", he said.
Director of Operations from, SLRA Ing Alfred J Momodu explained that the project is about demarcating vehicular and pedestrian traffic by creating a sidewalk.
"With this project, the safety of pedestrians within the Central Business District (CBD) would be better," said Ing Momodu.
He disclosed that the first phase of the work targets Sani Abacha Street, Wilberforce Street and part of Goderich Street, and the second phase will target Rawdon Street, Garrison Street, ECOWAS Street and 'Salad Ground'.
All parties were so far satisfied with the progress of the work. After the completion of the work, the Traffic Division of the SLP will ensure that pedestrians do not walk beyond the guardrails and trading will be limited to shop owners along the road.