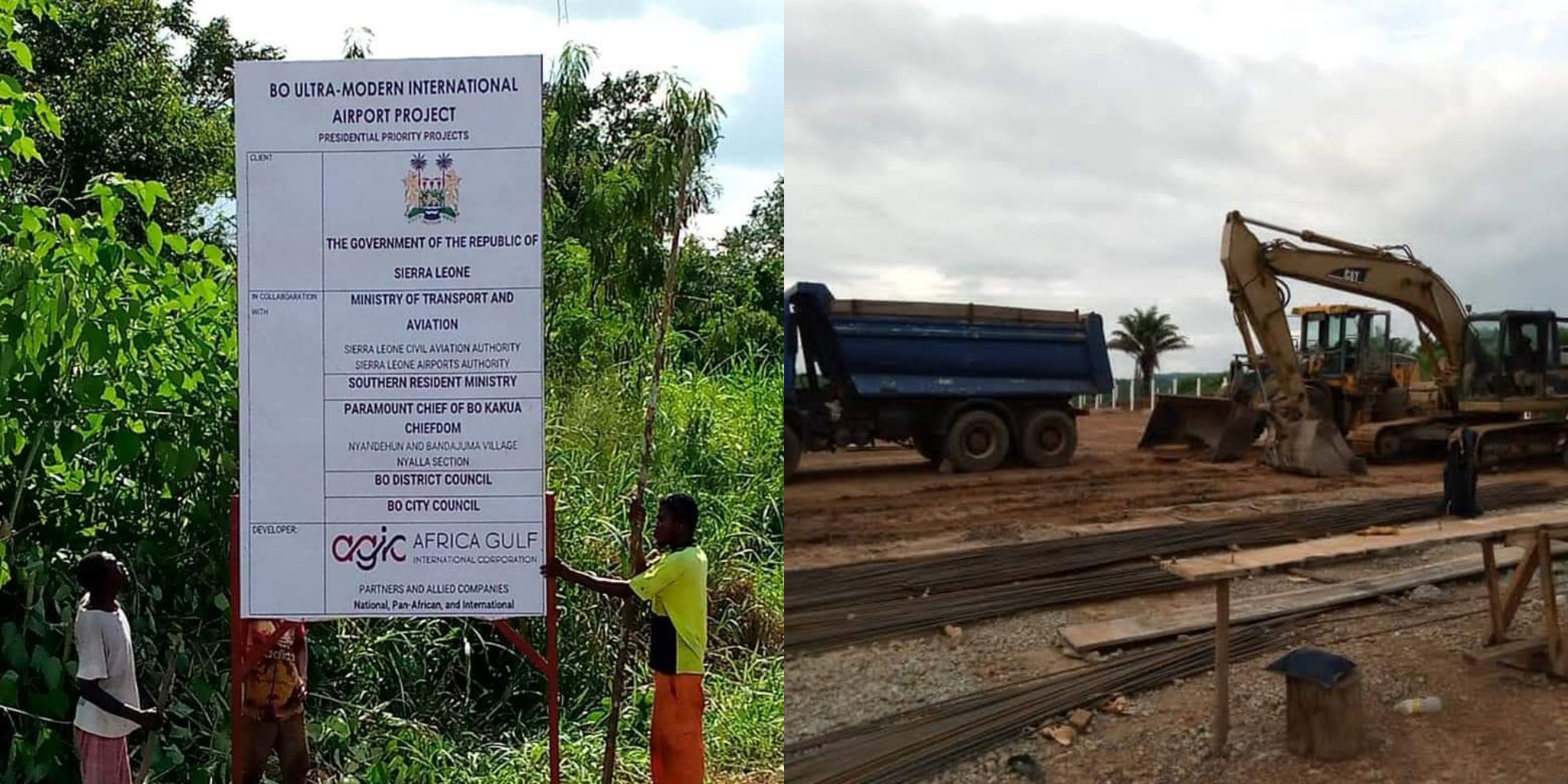 Stakeholders Confirm Construction of New Ultramodern Airport in Bo
It is reported that construction of the new ultra modern airport in Bo will soon commence.
According to AIM Network News, the revelation was made a dinner ceremony for stakeholders and traditional authorities held at Sedami Hall along New Gherihun Road in Bo. It was revealed that an airport costing $600 million will be constructed in Bo.
Welcoming the stakeholders, Paramount of Kakua Chiefdom, Bo District, PC Prince Lappia Boima stated that as a traditional Authority he supports development that provides employment for his people.
In his opening statement, the Chairman of Bo District Council who was also chairman of the event, Joseph Munda Bindi said it is a big blessing to have a modem airport in Bo.
"We're very delighted to receive our guests and development partners to Kakua, Bo district and the country as a whole," Chairman Bindi noted.
Chairman Bindi said it is only out of love that someone could leave his country to come and do a big investment into another country.
He assured the investors of security in Sierra Leone and an enabling environment to invest in order to undertake an investment of such magnitude.
The Resident Minister Southern Region, Mohamed E. K Ali commended PC Prince Lappia Boima for liaising with development partners to come to Kakua chiefdom.
He stated some months ago, they could hear about an airport project coming on in Bo but learnt later the work was stopped to make authorities in the District be part of the project.
He reiterated government will provide the required security for the project to be implemented in a conducive atmosphere.
Mr. Ali commended the landowners for providing the needed land for the huge investment.
He appealed to the investors to bring other developments to Sierra Leone.
Former Vice President of Sierra Leone, Dr. Victor Bockarie Foe said he has known the team lead of the Airport project for over 20 years.
He informed those who were peddling lies on social media that the Bo airport project is fake is not true.
Foe also informed Sierra Leoneans would benefit immensely after the Airport project would have been completed.
He encouraged all stakeholders to support the project as it is the desire of President Julius Maada Bio to bring such a development to the country and would want to participate in it.
Also making a statement, former mayor of Bo City Council (BCC), Dr. Wusu Sannoh said the Bo airport project when completed will provide livelihood and open the country to so many other opportunities.
Dr. Sannoh appealed for the strengthening of the relationship between the investors and the people of Bo District in particular and Sierra Leone in general.
Responding, the team leader for Agic Africa Gulf international Cooperation, Ambassador Dr. Alhajie Alusane Gbanoa disclosed they are coming to Bo to build an ultra modern international airport.
Dr. Gbanoa also revealed the airport project will cost 600 million US dollars and that the finance for the airport will come from different investors.
He confirmed no development can be sustainable if the community is not involved in it's implementation.
" You can not do any development if those around that development are not part of the process," he said.
He also revealed he was fulfilling a promise he made to the then Inspector-General of Police in Sierra Leone, Keith Biddle during the war that he will return to Freetown.
"Today after many years, I have brought development to Sierra Leone," Ambassador Alhajie Alusane Gbanoa said.
He added plenty money will be put into the airport project and for that they need security to ensure that the development project go ahead.
Ambassador Gbonea appealed to the people of Bo District to accept and own the project and informed them they have met with stakeholders and got all the necessary documents from the relevant institutions to ensure they project goes ahead as planned without any hitch.
Youth Chairman, Jobson Siaffa Momoh sensitized the people on the economic importance of the airport project.
He said the money to construct the airport is not from government of Sierra Leone but from private people who want to invest and put up an ultra modern international airport in Bo.
He called on government and stakeholders to make use of this opportunity as Sierra Leone has only one international airport which has served Sierra Leone for decades.
The Bo Ultra Modern international airport will be located along the Bo- Kenema High Road between Nyadehun and Bandajuma villages.