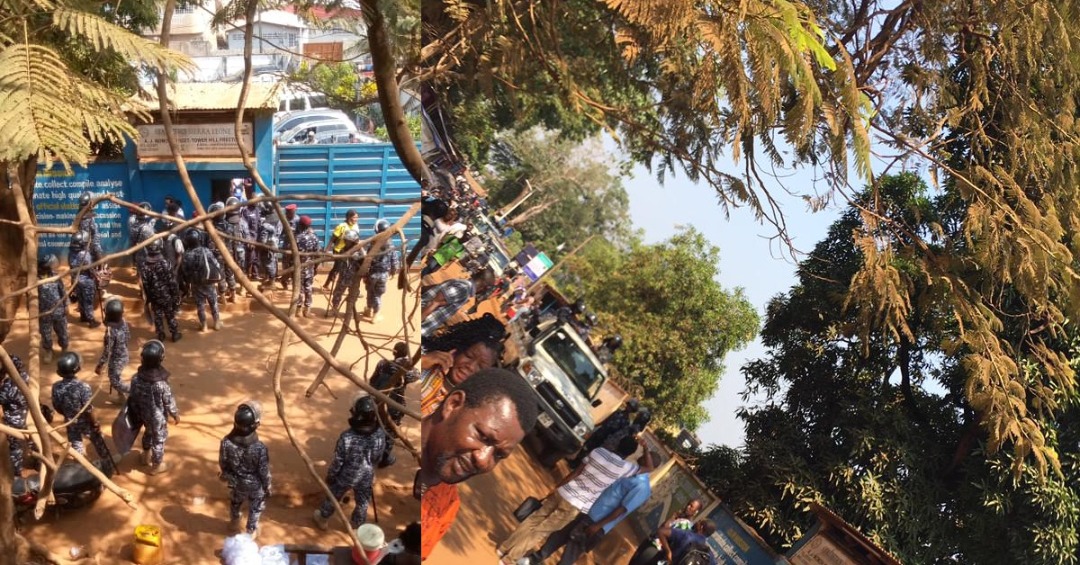 Heavy Police Presence as Statistics Sierra Leone Fails to Pay Mid-Term Census Field Workers
The Statistics Sierra Leone has hired police officers With Guns Filled With life Bullet, Teargas and koboko to Intimidate Innocent Mid-Term census Field workers who went to collect their money they honestly worked for.
This is the way statistics Sierra Leone want to pay these innocent Sierra Leonean who have worked for their country all in the name of patriotism.
According to the Field Staffs, when they had first completed the training for the Census, they were supposed to be given training allowances but Statistics Sierra Leone did not do as planned, but instead summoned them for the 30% of the money they should use in the field.
They continued that even that 30% were not given to every field staff that day and that most of them received theirs after 2-3 days. They said that they even gave the enumerators and supervisors the exact amounts as the supervisor's moneys were cut down for reasons best known to them.
They claimed that the transportation allowances given to them was for the past fourteen days Census exercise, so if Statistics Sierra Leone want to extend the exercise, it must be under the following conditions:
Training allowances must be paid
100% payment for the past fourteen days exercise must be completed, including supervisor's 30% backlog.
New contracts must be awarded for the mopping up period
Addition of enumerators for those with 6-7 EA with only two enumerators.
But they were then asked to go and collect a sum of le 600'000 for the training allowance which should have been given to them along time ago but when they went there today, Statistics SL decided to intimidate them this way.
The biggest question is, how would this census be credible when the key players (field staffs) are not happy?