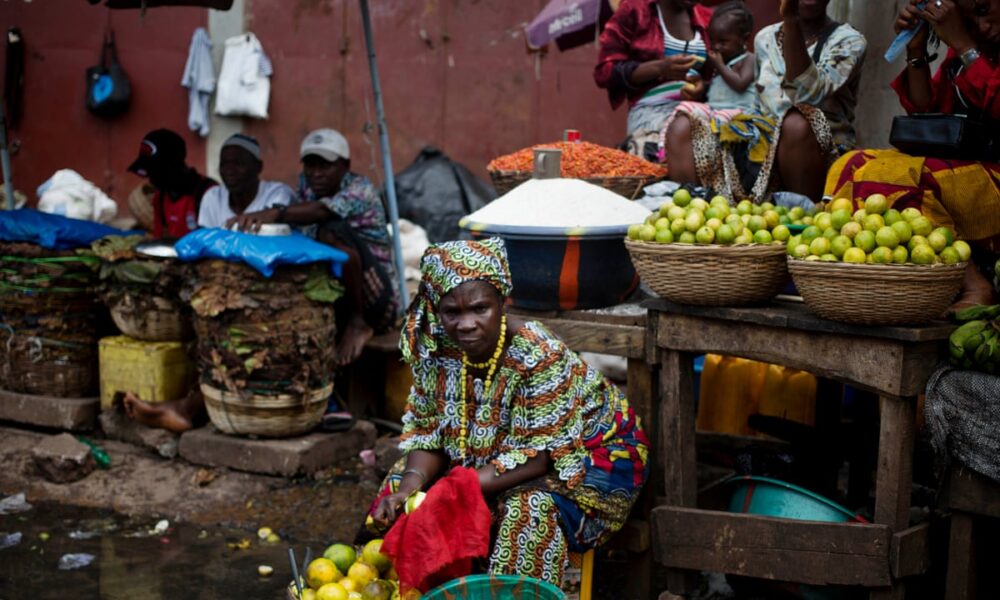 Suffering And Hardship Continues in Sierra Leone as Prices of Goods Rises
As prices of foodstuffs, goods and commodities continue to increase on the market, traders now worry about making profit. Fatmata Kamara sells onions in baskets at Dove Cut market. She is buying a full bag at an increased cost of Le 240,000, which used to be Le 160,000.
The prices for the brown English onions and the white Lungi onions have gone up as inflation continues to rise. "The Lungi onion is no more; it only lasts for few months. So we spend a lot to buy the English onions," she complained.
The mother of five solely depends on selling onions to feed her children. Sitting on a very low pallet, she was busy arranging and pulling off some spoiled onions from her stock. As perishable goods, the onions sometimes get smashed when cramped in the reddish netted bags, a situation which results to huge lose for Fatmata. She has been in the business for almost 15 years. "It is our through this business I pay fees for my kids," she said.
Being a trader comes with so many disappointments; one of them is paying market dues to City Council officers. Kamara was grumbling about the attitude of City Council ticketing officers whom she said would never miss a day going around collecting money from people.
"They don't want to know if you sell a day or not. They would just come and stand in front of you," she said.
She was displaying the spoiled onions on rubber bowls sandwiched between the good ones. The tired looking trader was not having a helper around. She alone picked up the good onions from the rotten ones while at the same time responding to buyers.
When asked during the interview to explain how selling was going, she said it usually takes her three days to finish selling a bag of onions, as compared to the past years. "I used to sell two bags a day, especially at occasion periods. But now people are not coming at all," she complained.
The market, Dove Cut, is becoming empty to the extent that truckloads could easily move about. The place which is known to be one of the most crowded markets in Freetown is becoming as empty as a playing field. Goods from the provinces have ceased coming in. Young men who used to earn a living from the laborious work by totting are leaving the city as goods become scare in the markets.
The noisy atmosphere has been replaced by sombreness. The sombreness is apparent by the empty stalls and ill-crowded corners of the market. Families who used to get their sustenance from this market have stopped trading owing to the existing hardship in the country.
The hardship is seen everywhere. While walking the market, the most common sight is people's haggard and poor looking faces everywhere you go at the market. For Fatmata, although things seem to be difficult she usually saves the little money she fetches. "Every day I sell, I pay for osusu (traditional savings). So I thank God because at the end of the day, I have the hope that I have saved something," she said.
But the money she is keeping with osusu collectors ends up solving a few of her problems, as she has to pay rent in collaboration with her husband. Half of the money is used to buy goods like rice, condiments, and goods for her relatives upcountry, she said.
She also has to sort out her children's school needs. "I almost take care of the home because my husband hardly gives money for cooking," she complained.
It means Fatmata is unable to realise much from the money she is saving as she has bigger responsibilities that she could almost not contend with.
Fatmata is among many women in Sierra Leone who fights harder to get over the hurdles of marital responsibilities. The responsibilities which are supposed to be shouldered by men are now being shifted to women. The trend is not women being housewives, but wives going out to find money to run their homes. Nowadays, instead of husbands providing money for home cooking, their wives are on streets or markets selling.
The women complained that most of their husbands were made redundant after the New Direction government sacked them. Others who should be working at mining companies have been rendered jobless and squatting at home after mining operations closed down in the early periods of the Sierra Leone People's Party (SLPP) government.
As the hardships whip harder on homes, prices continue to rise, causing more suffering and hardships. A sack of rice keeps going up, and is now sold at Le 320,000.
Just days after Bank Governor Professor Kallon announced that three zeros would be deleted from the local currency, the dollar went up, followed by the prices of basic commodities on the market.
The swift economic measures pronounced by the Governor seem to have wilted down people's confidence. The confidence of most Sierra Leoneans in the Bank Governor's proclamation of bringing new notes to the market is rapidly dwindling as everything has shot up.
Although some economic analysts agree with Professor Kallon's monetary policies, they believe that it would only have a long time effect on stabilising the economy. That is, they said, when the country exports more raw goods than it imports into the country.
Before the mess, Sierra Leone was on the right footing as the economy was rated as the fastest growing economy in Africa. Before the present messy economic situation, the SLPP thought the country's inflation was having a negative impact on the livelihood of Sierra Leoneans.
SLPP's 2018 Manifesto became highly critical of the past government headed by President Ernest Bai Koroma. It said through its manifesto that Koroma's era was marred by an inflationary economy supported with convincingly rhetorical statistics.
"Inflation has worsened in the past 10 years. It rose from 8.5% in 2013 to 9.8 % in 2014 and 10.1% in 2015; and further to 17.4% in 2016. IMF estimates it at 18% in 2017," the Manifesto reads in part.
The People's Manifesto by SLPP also noted that between 2007 and 2016, the country's economy suffered a sharp deterioration with the consequent hardships affecting a much larger number of Sierra Leoneans. It went on that, prices of essential commodities rose sharply.
However, it is expected that the New Direction Government would bring drastic development marked by rapid changes. But instead, Bio's administration instituted a ban shutting down all mining activities across the country, a move that seriously crippled the economy.
The early days of the New Direction government also saw repeated sackings of workers from public offices and police killings, actions that instilled chilling fears in investors.
Lack of investors means no investments in the country. With no investments, government loses a lot of revenue. A ban on mining companies across the country also means no mining royalties gained from investors. The effects of such overarching factors started showing in the early two years of the Bio administration. It was further exacerbated by the alleged misappropriation of COVID-19 funds donated by the international community.
According to Financial Transparency Coalition, the €4.6 million that was given to the Government of Sierra Leone to support an additional 36,000 informal sector workers (petty traders, lowly-paid workers and workers in the tourism sector in November last year) is nowhere to be found, and there is no evidence it was distributed.
As inflation continues to be a threat to the country, there are still no encouraging signs of rebooting the economy. Quite recently, just within a few months, the price of fuel increased from Le 8,500 to Le 10,000.
Sierra Leone is still a donor-driven economy, so it is no doubt that as fuel increases in such a developing country other essential commodities are bound to go up. Since the fuel increased lately, the prices of commodities on the market have doubled up.
Fatmata, who sells onions, has seen the price of a bag of onions increased. If she doesn't increase the price per single onion, she won't get much profit.