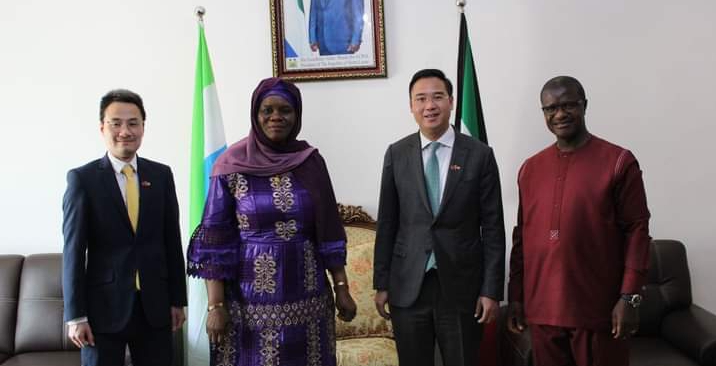 Vietnam Ambassador Thang NGO Pays Courtesy Call on Ambassador Haja Ishata Thomas
Vietnam Ambassador to the State of Kuwait, His Excellency Thang Toan NGO has paid a courtesy call on Her Excellency Ambassador Haja Ishata Thomas, the Sierra Leone Ambassador to the State of Kuwait, during which they discussed a wide range of bilateral issues, including the recent visit of His Excellency President Dr Julius Maada Bio to Hanoi, Vietnam.
Ambassador NGO thanked his counterpart for taking time out of her busy schedule to discuss bilateral issues aimed at firming up the friendly relations between the two countries. He also extended appreciation for the warm reception accorded to him and his delegation during the brief visit.
Speaking about the President's visit, he described the trip as an essential factor to strengthen bilateral and multilateral cooperation between the Republic of Sierra Leone and Vietnam, particularly the signing of a number of bilateral agreements with emphasis on the Farming Cooperation Agreement with the Vietnam Academy of Agriculture Sciences, which would boost Sierra Leone's drive to achieve food sufficiency.
Within the framework of strengthening cooperation, Ambassador Thang Toan NGO spoke about Vietnam's 5-year development agenda with African countries and expressed optimism in the two countries working closely to promote greater economic cooperation for the benefit of the two peoples while assuring Vietnam's readiness to assist Sierra Leone in attaining the food security vision.
In her brief response, Ambassador Haja Ishata Thomas revealed President Julius Maada Bio's vision to invest in Human Capital Development with a key focus on Education, Agriculture and Health, adding Sierra Leone has made outstanding gains in the educational sector to which the President desires to replicate same in the agricultural sector, hence his trip to Vietnam, the third largest rice exporting country in the world.
Concluding the engagement, they both stressed the importance of consolidating the existing ties between the two countries in the areas of Tourism and Culture, Education, Mineral Resources, Trade and Investment, Labour Migration, among others.