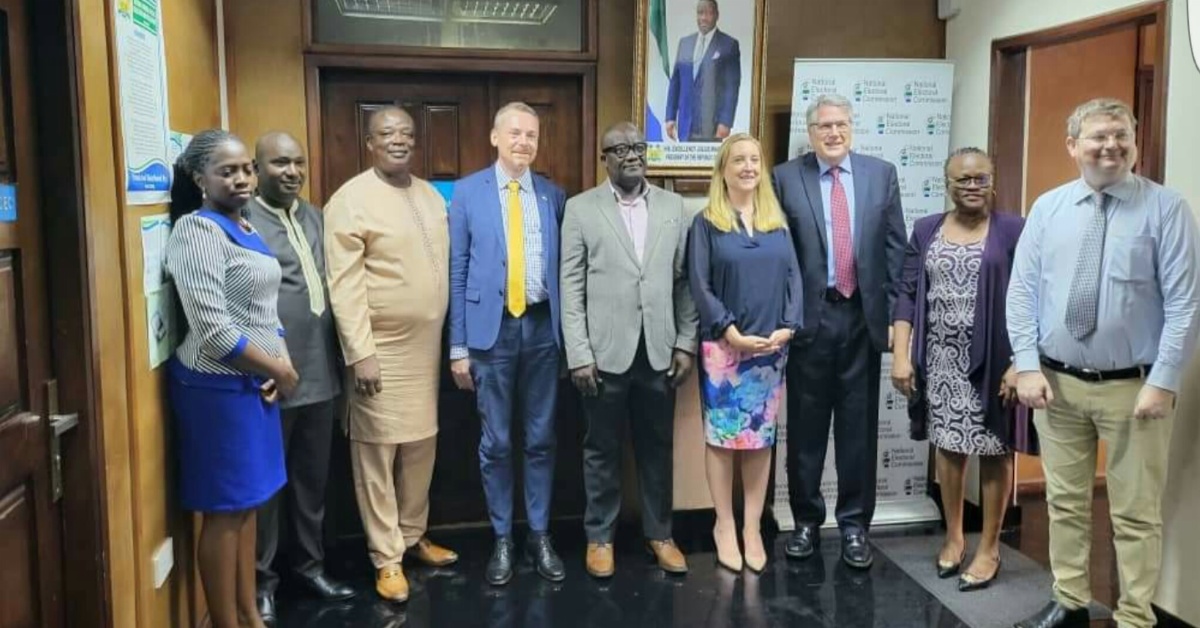 United States, Ireland and European Union Ambassadors Commend Electoral Commission of Sierra Leone for credible and Peaceful Bye-elections.
The Ambassadors of United States, Ireland and European Union has in meeting at the conference hall of the Electoral commission commend the Electoral Commission of Sierra Leone for Conducting credible and Peaceful Bye-elections.
The Ambassadors in a meeting at ECSL's Conference Hall in Freetown gave a positive assessment of the six bye-elections, especially the Tonkolili constituency 056 election that was a hotspot for potential violence.   US Ambassador David Reimer, EU Ambassador Manuel Muller and Ireland Ambassador Claire Buckley all talked about the positive way ECSL and other Elections Management Bodies (EMBs) handled the elections.
Ambassador Reimer says all reports that came in were positive and even Secretary of State Samander Powers mentioned about a project being done in Sierra Leone to diplomats in a meeting. They expressed concern about the increase in void votes.
Chief Electoral Commissioner (CEC) Mohamed Kenewui Konneh told the diplomats that since his assumption to office the conduct of credible and peaceful election has been the focus of the Commission. "We no longer accept invalidation of results due to violence. We have shared the responsibility of the 'hot seat' to all EMBs. We did not want repeat of the Kabala incident where ballot boxes were destroyed. That's why every institution is working so that we maintain the integrity of the electoral system".
In an update about the work of the Commission, he says the Commission is right on track for the voter registration process to start on 3rd September, 2022. The Government of Sierra Leone is still committed to provide the relevant resources for the work of ECSL. The Commission will use the just concluded logistical operation model in the bye elections to rollout the voter registration process and even the 2023 elections. "We will see where we need to make improvement and expansion in the operational model".
On the boundary delimitation, the CEC told the diplomats that ECSL will follow the laws and regulations binding the Commission whenever a census indicates a shift in the population. He assured them that the process will be done in an inclusive, fair and transparent manner for the good of the country.
Commissioners Edmond Alpha, Marian Nyuma-Moijueh, Zainab Umu Moseray and Abubakarr Koroma added their voices of appreciation to the diplomats. They asked that the Ambassadors in upcoming elections spread their observations to all districts and make public their commendations about the work of ECSL. They explained that issues of void votes will feature high in ECSL's trainings and Electoral Education. The high security presence in some areas were because of their history and that deterred the importation of marshals (thugs).