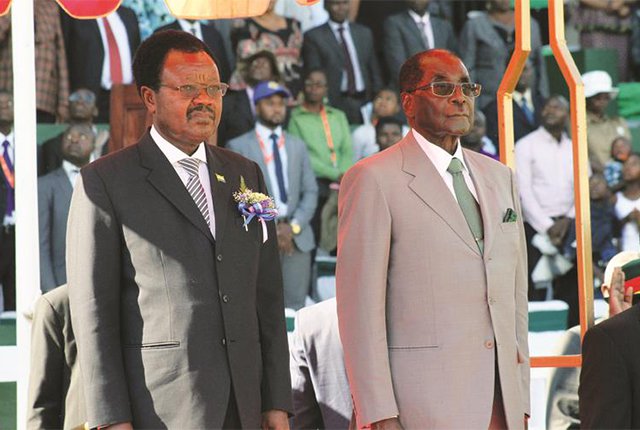 Victor Foh Escapes Death as Police And Opposition Activists Clash in Zimbabwe
Visiting Sierra Leone vice president, Amb. (Dr) Victor Foh was whisked away from his Harare hotel last Friday as clashes erupted between police and opposition activists at Freedom Square, Zimbabwe.
Newzimbabwe.com reports that Vice Presiden,t Victor Bockarie Foh was in the country to officially open the Harare Agricultural Show on last Thursday.
He was staying at the Rainbow Towers Hotel in the capital which is located close to Freedom Square where opposition supporters tried to gather for a "mega demo" against President Robert Mugabe's government.
The unrest saw police officers firing tear gas on anti-government supporters who had gathered at the open space to demonstrate against President Robert Mugabe.
The demonstration was organised by a coalition of political parties under the National Electoral Reform Agenda (NERA) banner with the intention of petitioning the government to reform the country's electoral laws.
Clashes between the police and the protestors resulted in the worst violence seen in Harare in more than two decades as anti-riot cops used baton charges and water cannons against the opposition supporters.
As the unrest spiked near the Sierra Leone' vice president's hotel, a convoy of four state security vehicles with police motorbike outriders was seen speeding away from the facility at around mid-morning.
Sources say the convoy, likely drawn from President Mugabe's motorcade, was moving the Sierra Leone dignitary to another location in the capital.
Riot cops had also deployed at the entrance of the hotel supposedly to protect the visiting VIP from being attacked by angry protesters who were throwing stones at the armed police details.
Some the police officers could also be seen busy removing stones blocking the road leading to the hotel at corner Rotten Row and Jason Moyo Avenue which had been put by the protesters.
Speaking before he left the country for Nairobi, Kenya, President Mugabe warned his rivals against using violence in their bid to force his ouster.
"They are thinking that what happened in the Arab Spring is going to happen in this country but we tell them that it is not going to happen here," Mugabe told state television.
He accused Western countries, including the United States, of sponsoring the protests. "They are fighting because of Americans," said the Zanu PF leader.