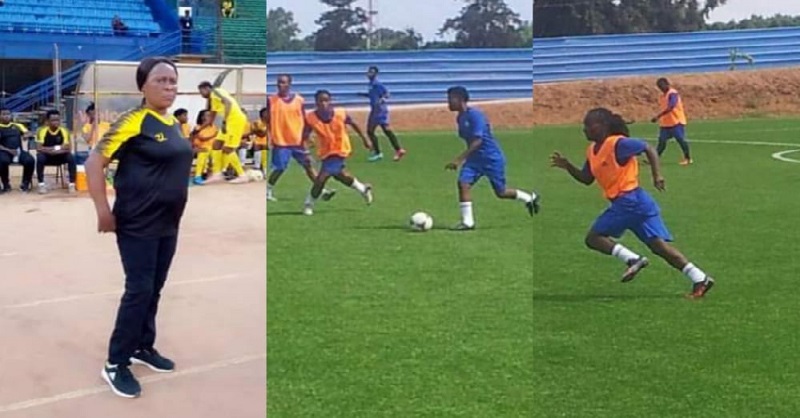 Coach Victoria Calls 40 Home Based Players to Training Ahead of FIFA U-20 Women's World Cup Qualifier
Victoria Conteh the Head Coach of the Sierra Leone Female U-20 Team has invited 40 Home-based players as she prepares for the FIFA Under-20 Women's World Cup Qualifying two-legged tie against Guinea in September 2021.
The training will begin on Monday, July 19, 2021.
Sierra Leone will travel to Guinea for the first leg which is slated for September 25, 26, and 27, and will subsequently host their counterpart on the 8,9, and 10 of October 2021.
LIST OF INVITED HOME-BASED FEMALE PLAYERS
1 Elizabeth Mansaray from the Sierra Leone Police
2 Hawanatu Martha Conteh Mogbwemo Queens
3 Alice Koroma Mahmoud FC
4 Memunatu Kamara Prison FC
5 Fatmata K. Turay Katara Ladies
6 Kadiatu Abdulai Kamara Kahula Queens
7 Matilda Kabba Kahula Queens
8 Adama Kargbo Mamoud FC
9 Hannah Juana Mogbwemo Queens
10 Adama Jalloh Kahula Queens
11 Bilkisu Kandeh Turay Sierra Leone Police
12 Kumba Z. Brima Kono Queens
13 Mamusu Pele Tamu Sierra Leone Police
14 Abibatu D. Bangura Sierra Leone Police
15 Jeneba Dumbuya Prison FC
16 Isata Bangura Lungi Queens
17 Kumba Conteh Kono Queens
18 Isata T. Bangura Katara Queens
19 Kadiatu M. Kamara Sierra Leone Police
20 Kumba Abu Diamond Queens
21 Isha Sesay Sierra Leone Police
22 Doris Ansumana Prison FC
23 Binta Bah Mamoud FC
24 Juliet Brima Kono Queens
25 Isata Tholey Raising Queens
26 Mabel Gbongay Mogbwemo Queens
27 Isata Keita Kono Queens
28 Zainab Sesay Prison FC
29 Haja B.H. Fofanah Prison FC
30 Fanta Koroma Kabala Queens
31 Fatmata P. Koroma Rutile FC
32 Isata L. Sesay Lungi Queens
33 Adama Sankoh Raising Queens
34 Nadia Bah Lungi Queens
35 Rebecca J. Kamara Patricia Umu
36 Adama S. Kamara Patricia Umu
37 Fatmata Bangura Patricia Umu
38 Madiana Sesay Prison FC
39 Mamusu Kanu Central Queens
40 Mabinty Sesay Sierra Leone Police