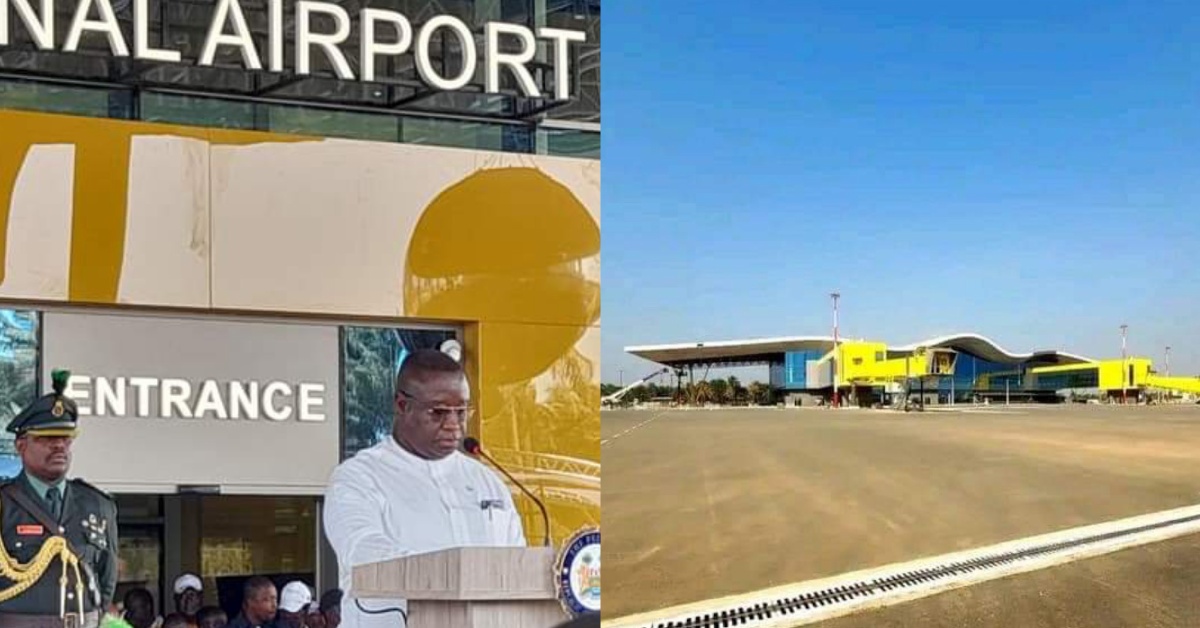 "We Inherited Non-Functional Airport" – President Bio
President Julius Maada Bio, on Friday, 3rd March 2023, told the people of Lungi that his government inherited a non-functional airport and uncomfortable facilities which were 20% compliant with International Civil Aviation Organisation's (ICAO) requirements.
President Bio, who was speaking during the commissioning of the brand-new Freetown International Airport in Lungi, Kaffu Bullom Chiefdom, Port Loko District, in North-Western Sierra Leone, stated that the inherited airport levies were about the highest in the sub-region.
He added that, that was the legacy of the former All People's Congress (APC) government.
However, due to the upgrade, "the experience of flying into Lungi has been better and more comfortable for passengers. Despite COVID-19, passenger volumes have climbed steadily. More air carriers have added Sierra Leone to their list of destinations," says the President.
He cited that the proposed Mamamah airport the then APC government was about to construct was a debt of USD 350 million with interest, recalling that international financial institutions and partners had warned against such huge debt.
"Even before they dug a single hole at Mamamah, the APC had already spent millions of dollars on questionable land acquisition, and forcible destroying a village and moving people. They were going to demolish an entire village and all its 23 houses. No firm plans were made for the suitable relocation and over five years, nothing was done," he recalled.
He said Mamamah is about 60 km from Freetown whilst lungi is about 15 km from Freetown by sea, adding that the airspace of Lungi International Airport and the APC proposed new Mamamah airport was overlapping.
"The distance between the two airports is 42 km – that means the airport would not have met the requirement of 20 km procedure control – therefore there was going to be an airspace conflict – so Lungi had to be shut down. There was no provision for radar control at Mamamah. Mamamah airport was going to be smaller," he told his audience.
President Bio said the proposed international airport was going to move from Lungi, noting that Lungi would have become a ghost town with great job losses for young people.
"We did not move the airport to the southeast as some bad politicians would let you believe. We believe that Lungi and Port Loko deserve to still be the international gateway of Sierra Leone. We do not believe that Sierra Leone should be indented with hundreds of millions of dollars of debt with interest just to build an airport," he stated, disclosing that the brand-new airport is bigger and more modern and it has been built with zero cents in debt under the Build Operate and Transfer (BOT) model.
He recalled that since 1967 when the Lungi international airport runway was expanded, this was the first time in the history of this country that a completely new international airport terminal has been constructed, boasting that no Government has ever done such massive infrastructural development in this sector.
Minister of Transport and Aviation, Kabineh Kallon, said that the new airport would open up Sierra Leone to the world, adding that the newly constructed airport was an indication that the country was moving in the right direction.