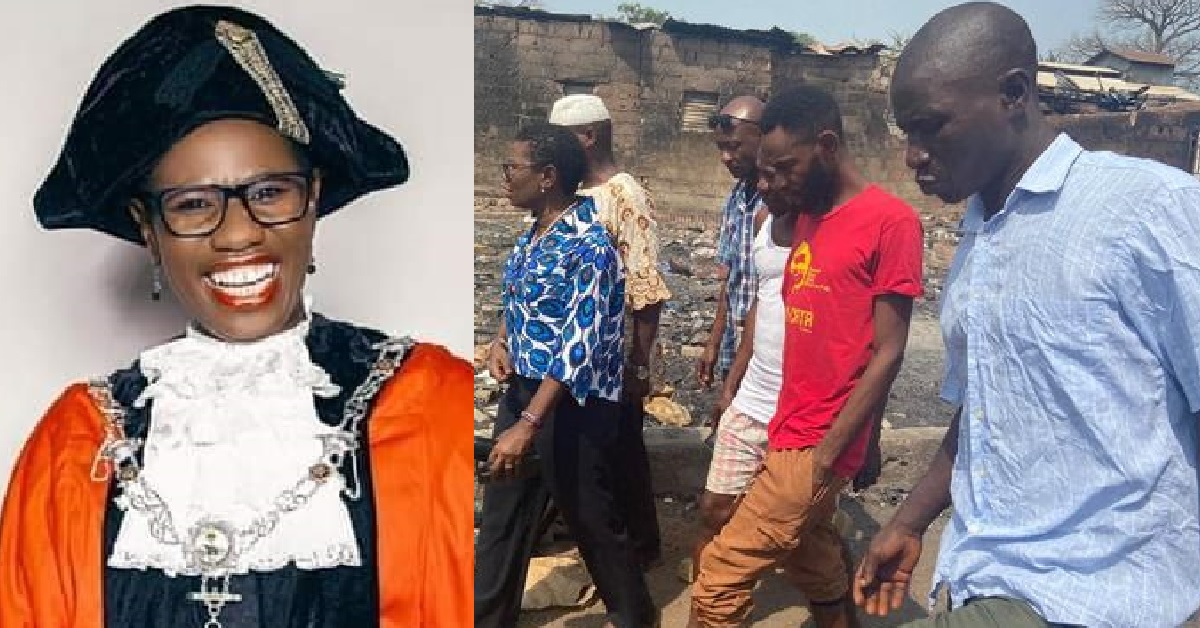 Mayor Yvonne Aki-Sawyerr Visits Kolleh Town And Donates Items to The Fire Victims
Her Worship Yvonne Aki-Sawyerr, Mayor of Freetown visited fire victims of Kolleh Town at Congo Town in the Western part of Freetown and donated food and other items to the victims.
The fire incident which took place on 23rd January 2022, destroyed 94 households and placed about 368 people homeless which comprises of children and old people. No death was reported but two people sustained minor injuries and were immediately taken to the Crest and Satellite Hospitals for treatment.
Her Worship was accompanied by Councillor Unisa Kamara of Ward 444, Councillor Alie Morray Conteh of Ward 431 and stakeholders of the community. She donated food and other items to the victims including school learning materials.
"On Thursday 3rd February, 2022, I visited the victims of a major fire that broke out in Kolleh Town on 23rd January 2022.
The blaze destroyed 94 households and rendered 368 people homeless. Among the affected were 116 children aged 16 and below. Fortunately, there were no fatalities, although two persons were evacuated to the Blue Crest and Satellite Hospitals with minor injuries, and subsequently discharged.
The cause of the fire is – as yet – officially unconfirmed. However, it is thought that the likely cause may have been a poor electrical connection. As this is a major disaster effecting hundreds of persons, incident response is being led by the National Disaster Management Agency (NDMA), with the support of FCC and other partners.
Yesterday's visit provided me an opportunity to assist with the distribution of aid and have discussions with residents about the causes of the fire, disaster risk reduction, urban planning issues and next steps in responding to this incident. In addition to the food and non-food items delivered by the national response, I handed over vital school supplies which had been donated to the Council by Save the Children. Members of the local community, led by the Councillor of Ward 431 and the community's Chief expressed their gratitude.
Whilst FCC is proud of its progress in preventing and responding to disasters, there is no room for complacency to undertake land use planning and to develop adaptive measures to build community resilience and prepare for climate shocks. The Council remains committed to addressing these issues, and grateful to our many partners."