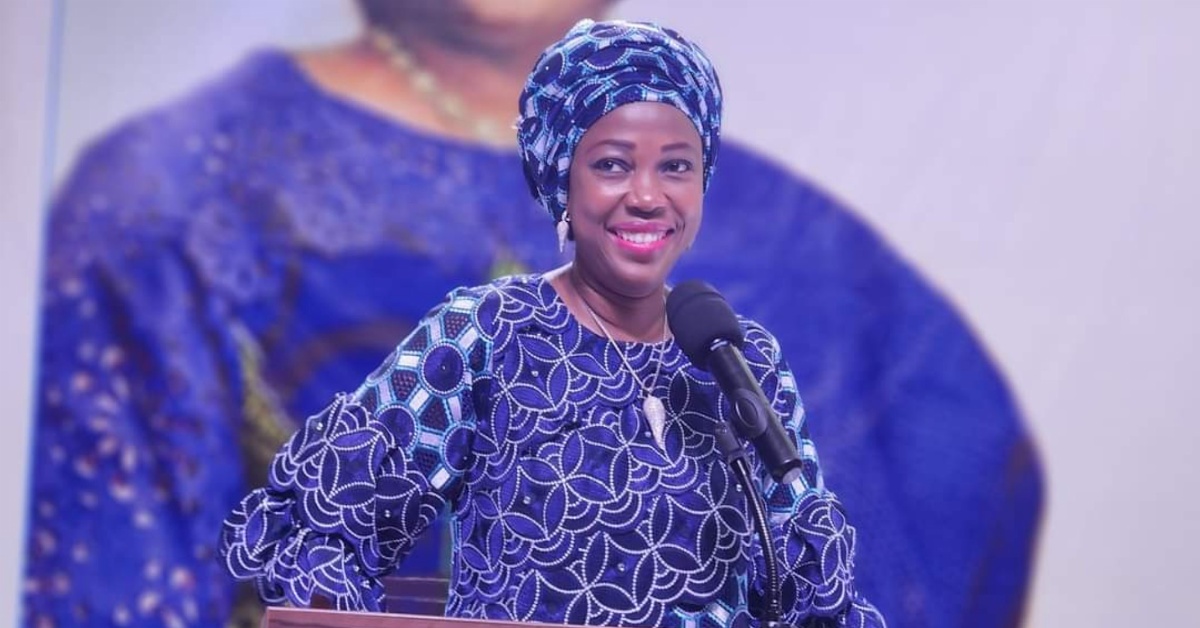 OPINION: Fatima Bio is Now a Global Icon
While her detractors are castigating her at home, the First Lady of the Republic of Sierra Leone Madam Fatima Bio is being recognized worldwide as a champion for the protection of girls and young women in Sierra Leone.
Her latest international recognition is in neighboring Liberia where she engaged a large number of young people in an open conversation organized by the Vice President of the Republic of Liberia, Her Excellency Chief Dr. Jewel Howard-Taylor.
In Liberia, Madam Fatima Bio shared stories of her successes and challenges with over 400 emerging leaders. She explained to the highly attentive audience that social media is a place she uses to educate, and learn, as well as to staunchly promote the interests of girls and women in her country.
This is not the first time Madam Fatima Bio has been a high-profile guest of the Liberian government. Back in June 2019, she joined other First Ladies for the launch of First Lady Clear Marie Weah's "She Is You Movement." Just like Madam Bio's "Hands Off Our Girls"; the Liberian First Lady copied the Sierra Leonean First Lady's initiative of improving the lives of women for a prosperous and better Liberia.
It can be now said that with Madam Fatima Bio's "Hands Off Our Girls", followed by the Liberian First Lady's "She Is You Movement," President Julius Maada Bio's wife looks to be championing a new move by African First Ladies to make positive change from within. Taking the cue from our own the First Lady of Sierra Leone, First Ladies in Africa are concentrating on empowering women for sustainable development. That is why Madam Fatima Bio believes OAFLAD (Organization of African First Ladies for Development) should take the lead in promoting development through empowerment.
It could be recalled that when Madam Fatima Bio launched her "Hands Off Our Girls" initiative in December 2018, her main aim was to protect girls from sexual abuse, early marriage, and teenage pregnancy. She believes that girls in Sierra Leone should be safe and able to go to school in peace. During the launching, she noted that "We must make examples of these men who say they protect their children at home while they are running after other girls.
The laws must be changed and we must continue the education, especially civic education, to teach these men that girls must be in school and not running homes. Rapists are humans – they must not be protected but should go to jail for life." That singular action by Madam Fatima Bio led the Government of Sierra Leone to declare a National Emergency on rape and sexual-based violence and enact laws that criminalize rape and other forms of gender-based violence in the country.
Our First Lady has also been a local icon which made the people of Kono award her on December 25, 2022, with a total of three awards in recognition of the pride that she had brought to them as a District. The Citation was read out after a video documentary was played at the event.
Both the Citation and the Video paid tribute to the First Lady's contribution to the nation especially in championing women's and girls' rights. The Citation highlighted her unprecedented work in the position of First Lady which surpassed all her predecessors.
Madam Fatima Bio is one of the most passionate First Ladies of Sierra Leone. As part of activities to mark the start of this New Year, she had wonderful moments with natives and residents of Bonthe District – Tihun, Sogbini Chiefdom, Naijeh, Bauya, Tongo Field, and Kanga Junction where she distributed hundreds of bags of rice, gallons of oil, sachets of salts, etc to vulnerable and needy citizens.
Before that, on Friday 30 December 2022, Madam Fatima Maada Bio and the Julius Maada Bio (JMB) Women's Wing and Associates (JMB) paid a pleasant surprising visit to the Cottage Hospital where they presented Christmas Gifts and messages of hope to patients.
At the height of the COVID pandemic, Madam Fatima Bio launched the National food basket program to supply free bags of rice, oil, salt, and other food items to every district in the country.
Her philanthropic character is inborn and she is a fantastic role model that leads by example. Her greatest strength is her ability to achieve any goal she sets. Some say it is divine, but people close to her say it is pure, undiluted hard work, while others insist it is a combination of both divine intervention and hard work.
In line with her dedication to educating and protecting our children especially our girls, in September 2021 First Lady Madam Fatima Bio was honored by the United Nations as the new champion of the United Nations Education Plus program.
Besides her battery of laurels, she won the Gathering of African Best (GAB) Awards for her exceptional contribution to promoting a positive image of Africans around the world.
With all those accolades, my readers will agree that Madam Fatima Bio is now a global icon.