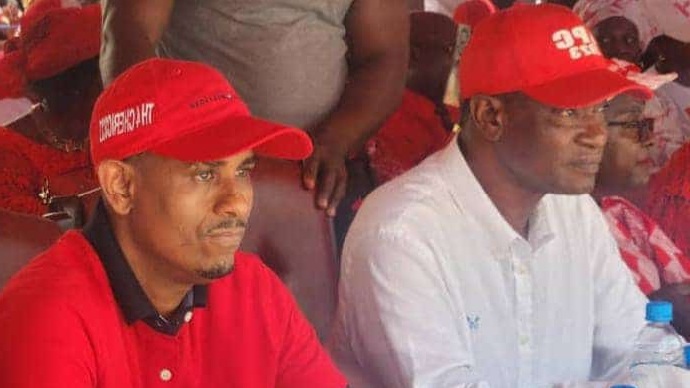 Oped: Dr. Samura Kamara Will Name Chericoco as Running Mate
I have keenly followed the debate about the protracted declaration or naming of the main opposition (APC) running mate.
The debate whether to maintain the 2018 running mate to Dr. Samura Kamara or to change him and find another person.
Some APCs who are opposing Hon Chernor Maju Ramadan Bah known as Chericoco are saying that the APC needs a candidate from Kono, and they even alleged that Chericoco is not that popular while, Hon Chericoco's supporters including the MPs are calling on
Dr. Samura Kamara to name Chernor Bah as his running mate because Hon Chericoco has always been Loyal to Dr. Samura Kamara since 2018 to date, and that he is very popular amongst voters across the country.
Additionally, One of Chericoco's supporters said that Hon Chericoco who has been in parliament since 2007 to date is the most popular amongst all the names surfacing for the APC running mate position.
As a social commentator who has been following Sierra Leone Politics for the past years, I can unrepentantly say that Hon. Chericoco was overwhelmingly voted for as an MP in 2007 and since then he has been elected by his constituents in parliament in 2012 and 2018 respectively.
As far as I know he has been working in the interest of the country and his party in the parliament for the past years.
I also understand that Hon Chericoco has been very instrumental in ensuring that Dr. Samara Kamara got overwhelming votes at the just concluded APC convention in Makeni.
According to sources many delegates voted for Dr. Samura Kamara with the strongest conviction and intention that Dr. Samura Kamara would name Hon Chericoco as his running mate.
By virtue of videos from the APC convention where people were chanting Samura Kamara and Chericoco and also from my discussion with many members of the APC, Hon Chericoco is a gem for the Dr. Samura Kamara and he will add value to the APC ticket than any other candidate.
Remember, like Dr. Samura Kamara, Hon Chericoco has traversed the whole country in 2018 during the campaign, so he is very much known unlike other the candidates who might be known in just a small setting.
I strongly believe that not choosing Hon Chernor Maju Bah as running mate would hinder the chances of the APC in June 24 because such decision will alienate many APCs across the country.
I hope Dr Samura Kamara would pay attention to the popularity of Hon Chericoco and also note that any decision not to appoint Hon CM Bah as running mate would break the hearts of thousands of Chericoco APC supporters.
Further, clearly the APC needs national healing right now as a result of the countless mistakes done to other APC members but going against the widely anticipated choice of majority of the APCs for the running mate positions would just bring another layer of problem for the party.
In addition, what the APC needs now is to solidify it base and woo other voters not to throw a bomb at it base that would cause serious cracks and fractures within the party.
It is on this note I say, underate his popularity amongst the voters at your own peril.
I rest my case.