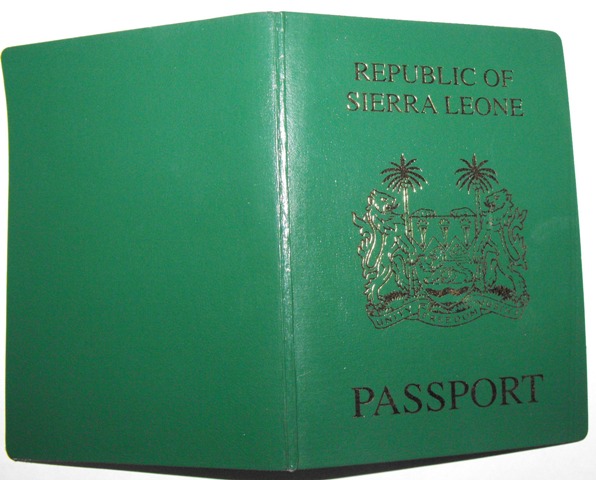 Passport Shortage is a National Scandal! By Sorie Fofana
The perennial shortage of Passports in Sierra Leone is a clear demonstration of incompetence on the part of the Government of President Dr. Ernest Bai Koroma.
Since April this year, ordinary Sierra Leoneans have not been able to either acquire new Passports or renew their existing Passports. The plethora of excuses given by the Immigration Department, for the acute shortage of this vital national document can only he aptly described as unacceptable and pathetic.
The Government had known long ago that, the Machine Readable Passports were due to phase out and expected to be replaced with Biometric Passports. But what modalities did they put in place to address this crucial transition?
The supervising Ministry of Internal Affairs has so far failed to address the issue of acute Passport shortage in the country. This is a clear show of incompetence on the part of the political leadership of that vital Ministry. It has now emerged that, Mr. J.B. Dauda is no longer capable of handling this Passport fiasco.
All along, we have called on President Koroma to try and resolve this issue of Passport shortage in the country. The President has not shown any interest in the issue so far. Well, as far as we know!
Sierra Leoneans who have come on holiday can no longer afford to return to their various countries of abode, because, their Passports have expired.
Sierra Leonean students, who have been granted scholarships to study abroad, have not been able to report to their various campuses overseas because they do not possess valid travelling documents.
And the APC Government does not care a hoot about the plight of these unfortunate Sierra Leonean students. What a way to govern a country!
We demand a thorough and convincing explanation from the Government for their shambolic handling of the Passport issue in this country. It is no longer acceptable for the Government to be treating Sierra Leoneans as if they are second class citizens in their own country.
It is only an uncaring and an incompetent Government that can continue to preside over such a national scandal. This is a clear show of arrogance on the part of the APC led Government.
As a result of the gross incompetence of this Government, many Sierra Leoneans perished immediately after the outbreak of the Ebola Virus Disease in May 2014. We lost well over three thousand Sierra Leoneans, as a result of the lack of a visionary leadership in the fight to speedily halt the spread of the Ebola virus across the country.
Very soon, some of us will raise the red flag against the incompetence of this Government in the handling of very important State matters. We will soon get to that point.
Once again, we call on President Koroma to pay special attention to the Immigration Department, in order to be able to fix the mess that has already been created by J.B. Dauda and Alpha Kholifa Koroma.
In future, we will call for heads to roll. That is what is called accountable governance!
Period!