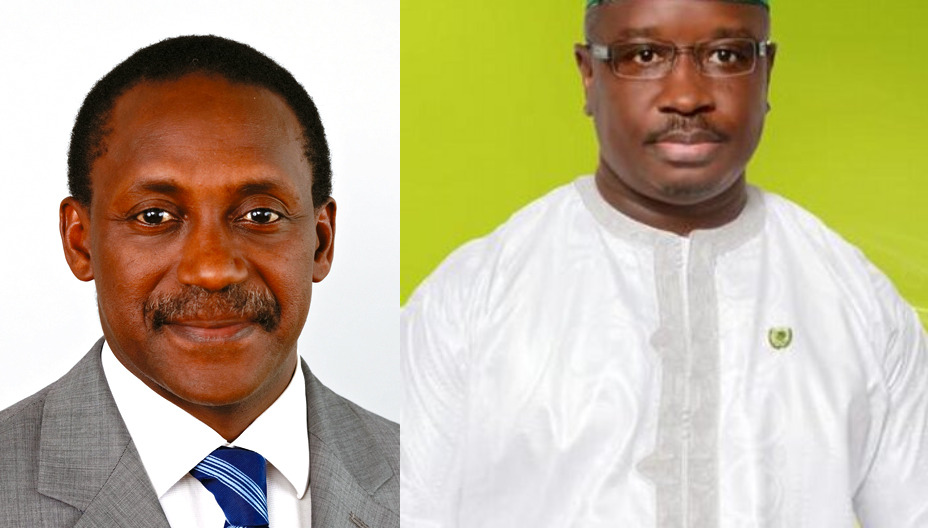 SLPP CRISIS: Between Dr. Kandeh Yumkella & Brig. Rtd. Julius Maada Bio
Since his election as Chairman and Leader of the SLPP in August 2013, Chief Somano Kapen has not been able to unite the Party.
Nobody can fault him for that, because, he inherited a Party that is split right in the middle.
Several attempts have been made by Chief Kapen to try and reconcile the warring factions in the party but without much success.
The challenge for Chief Kapen now, is to ensure that the infighting within the party is either reduced or eradicated all together. This is not an easy task, given the current controversy surrounding the registration of one of the party's prominent flag bearer contenders, Dr. Kandeh Yumkella.
No matter what anybody says, Dr. Kandeh Yumkella is an international figure that deserves to be treated with utmost respect.
Dr. Kandeh Yumkella would not sit by and allow few people in the SLPP to destroy his reputation and credibility by repeatedly accusing him of falsifying documents meant to qualify him as a registered member of the Party. The man will naturally fight back, if he realises that, the issue of his registration in the SLPP was being needlessly used to discredit him, both at home and abroad.
The issue of Dr. Yumkella's registration can be easily handled administratively. There is no need for this issue to be made to overshadow important issues like Party Unity in the SLPP.
Some of us have always argued that, the SLPP should fight very hard to make it self very attractive so that, people with large following and credibility can easily join the Party. This idea of trying to marginalise other important stakeholders in the Party can be disastrous for the SLPP.
Some of us have always preached unity, peace and respect for authority in the SLPP. There is no way a political party can exist without a leadership structure. No way!
This idea of people convening unauthorized press conferences, issuing out unauthorized press releases just to vilify one and other is a recipe for disaster in the Party.
Everybody agrees, without a shred of doubt that, for the time being, Brig. Rtd. Julius Maada Bio remains the most popular flagbearer contender in the SLPP. But can he afford to take a divided party to general elections in 2017/18?
Those of us who genuinely love or profess to love Brig. Julius Maada Bio should always strive to maintain a United Party. If the SLPP is not united, there is no way they can win a national election in this country.
All said and done, Dr. Kandeh Yumkella should be treated with respect, both in and outside the SLPP. He has been a very outspoken and fearless Politician and his voice is resonating well across the universe.
Let us use this opportunity to appeal to all SLPP members and supporters to allow peace to rein in this Great Party.
What a wonderful combination it would make to have Brig. Julius Maada Bio and Dr. Kandeh Yumkella running on the same ticket in 2017/18!
The way forward for the SLPP is to get their act together and embrace everyone, in the name of Party Unity.
One Country, One People!
May common sense prevail!