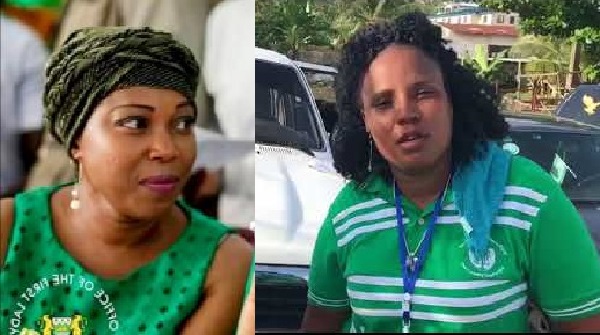 For Voting Against Fatmata Sawaneh, Sledgehammer Falls on SLPP Delegates
During the recent presentation of the newly elected President of the SLPP Women's Wing, the First Lady of the Republic of Sierra Leone, Fatima Bio categorically stated that some of the delegates that voted for Hawa Foray had started receiving suspension letter in their respective workplace.
Fatima Bio expressed her frustration over actions taken against those that voted for Hawa Foray, adding that the election is free and fair and that the delegates were given the opportunity to exercise their franchise and choose their leader.
The First Lady expressed her profound thanks and appreciation to President Bio for giving her the opportunity to vote in the SLPP's Women leader Election and underscored that her agenda is to support her husband to succeed in his adventure.
Fatima Bio also recalled about the problem she encountered during the first SLPP Women's Leader Election held in Kailahun and blame the security for abandoning her in the midst of all the violence that happened in that election.
She also pointed accusing fingers on certain cabinet ministers for prevailing on the security personnel not to come to her aid in the midst of the violence that occurred in the election in Kailahun.
The Deputy Minister of Mines and Mineral Resources, Ann Marie Harding, said the time is now for the SLPP Women's Wing to rise from its slumber and become a formidable force. She described the election of Hawa Foray as the right choice aiming to revive the already defunct SLPP Women's Wing.
Voice of Salone reports that, Mrs. Harding described Hawa Foray as a grassroot politician who started politics from zonal level as constituency Women's Leader from Kenema district in the past ten years.
Delivering a statement, the newly elected SLPP Women's Leader, Hawa Foray, started off by saying that for far too long, women had been in the kitchen and her election is a manifestation that women have started coming out from the kitchen. She boasted that her election as the National SLPP Women's Leader is a blessing as she intends to bring facelift in the women's wing. She concluded by promising to display transparency and accountability throughout her leadership, adding that as a humble servant she wants to bring change in SLPP Women's Wing and called on the President to support her in that direction.
President Bio in his statement, called on all SLPP members to wash their dirty Linen in House. However, some SLPP supporters are calling on President Bio as the Leader of the SLPP to tighten his seat belt and save the party from falling apart.