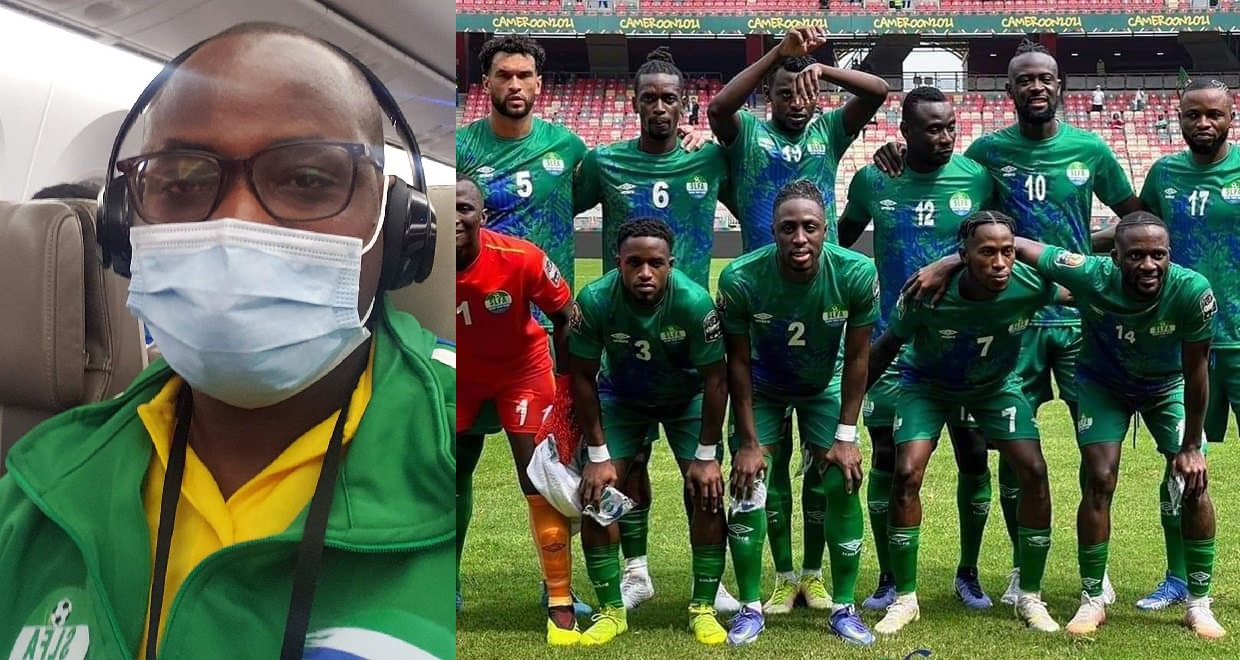 AYV Journalist, Amadu Lamarana Bah Narrates His Experience at The Stadium During Algeria Vs Sierra Leone Match
Popular Sierra Leonean Journallist, Amadu Lamarana Bah has narrated Leone Stars' Supporters ordeals to access tickets for Leone Stars Versus Algeria Match in Cameroon
He stated that yesterday they couldn't enter the Stadium to watch Leone Stars on time because there were no tickets
Bah further stated that with zeal, excitement and jubilation but all that died down after they waited in the sun for too long for their tickets but they didn't allow that challenge to affect us as we danced and cheer up the team when we went into the Stadium.
He stated that funnily, some of those who were part of the plot to get me off the flight to Cameroon came to me to complain and were agreeing that what I said about our ordeal at Lungi was true and I should also raise the tickets issue
"Lamrana all watin you say nar Lungi nar true duya postback this back the world yeri," they were appealing.
He reaffirmed that he didn't because he doesn't say things on someone's instructions.
Bah thanked Chernor Bah, Ibrahim Tommy, and Umaru Fofana who tried to get some tickets and were sharing around. He stated that they saved many of them and they only went in when the game has started already and some people during the 2nd half.
He concludes that Meanwhile, after welcoming the players at their hotel, he was impressed to see a group of compatriots who were led by my friend Lux-Liberite Lavish approach the SLFA President, the Secretary-General, and the Minister and demand answers for the ticket issue. They were stopped from entering the hotel.
He thanked, Lavish for standing up for everyone and demanding respect from our officials.
He confirmed that thankfully, the FA President apologized and took responsibility for what happened. He explained the challenge that lead to that unfortunate situation. Himself, the Minister, and other officials have assured them all that same won't happen again and a team has been set up to coordinate planning and share information on time. Hopefully, this will work.
He believes this is all they have been doing and asking for, citizens should hold public officials accountable for their actions irrespective of who or what political party is in power.
The Minister of Sports Ibrahim Yelenkeh has responded to these concerns in an interview with 98.1 reporter Musa Kamara in relation to Supporters stranded for tickets. He blames the Confederation of African Football (CAF) Organisers for releasing the passengers tickets late.He considers the mistake as a lesson they will learn from.
Many Cameroonians showed up in thousands to support Leone Stars against Algeria
The recent financial boost for the team will serve as a motivation for Leone Stars next Matches against Cote D' Ivoire and Equatorial Guinea
Leone Stars is expected to play their Second match against Cote D Ivoire on Sunday 16th January