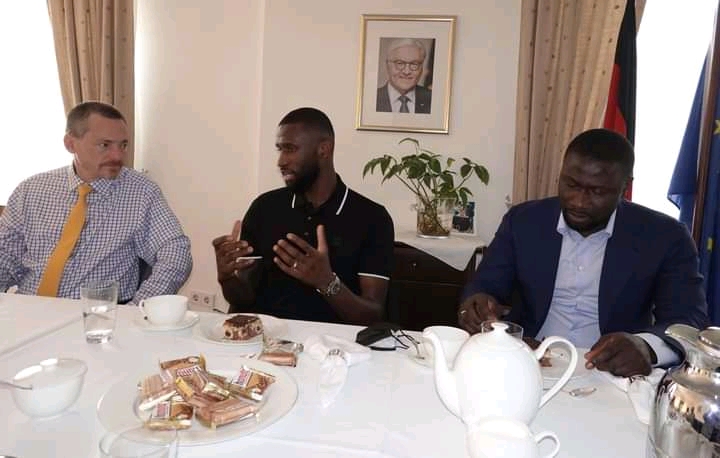 Ahead of Launching His Foundation, Antonio Rudiger Pays Courtesy to European European Ambassador, Manuel Mueller
Chelsea and Germany Central Defender Antonio Ruediger, has paid a Courtesy call to the European Union Ambassador Manuel Mueller
He made the visit with his brother Sahr Senesie, and his parents ahead of the launch of his foundation
Before he paid a courtesy call to the European   Union Ambassador,  he visited Anthony Navo Jr – CEO of the Africa Young Voices (AYV) Media Empire where he presented his #2 Chelsea Jersey autographed. Rudiger  also presented  his jersey autographed to the European Union Ambassador.
Navo thanked him for the visit and officially declared AYV as partner of the Antonio Rudiger Foundation. In his remark, Antonio Rudiger felt humble by the welcome and love he was shown by the CEO.
He said his homecoming is to connect with Sierra Leoneans and has enjoyed the reception from the people so far. Rudiger appreciated the effort of AYV in pushing the youth and young people of Sierra Leone. He talked about his love for Sierra Leone and the things he is working on to help Sierra Leonean talents grow.
The Chelsea and Germany Central Defender Antonio Rudiger has been  recently spotted jogging  at  Freetown Lumely Beach  with some Security Personnel.
Many Sierra Leoneans now recognized Rudiger's humility and philanthropic gesture in the country, especially with the Antonio Rudiger Foundation that will be launched tomorrow Thursday.
Rudiger's coming to Sierra Leone is geared towards the establishment of a foundation for less privilege children in the country.
The defender recently expressed appreciated feelings towards Sierra Leoneans for welcoming him in the country with  open hands .  After his physical exercises at the popular beach, the Chelsea Star later took photos  with  ordinary Sierra Leoneans he met at the place
"I'm speechless- these crazy people thank you from the bottom of my heart for this overwhelming welcoming. Sierra Leone God bless you" he recently stated
Rudiger's meeting with the European union ambassador in Sierra Leone is to further strengthens ties with prominent personalities in the country.