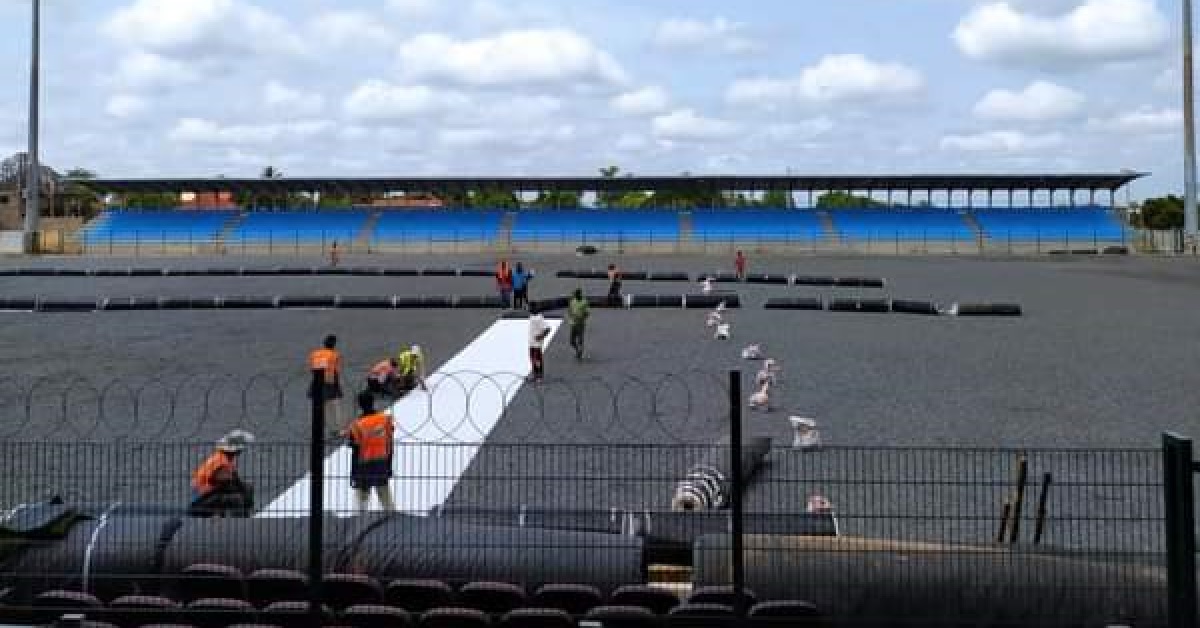 Artificial Turf Installed at The Southern Arena Stadium in Bo
As the Southern Arena Stadium which is speculated to be hosting 6,000 spectators continues to progress progressively, installing artificial turf has been concluded on the pitch ahead of Nations Cup Qualifiers for 2023.
The news of this Southern Arena Stadium surfaced on the web 9 months ago. According to reports, chairman Babadi Kamara took inspiration after his last visit to Guinea to see how he can embark on such projects.The project is set reinvigorate the Bo into a district dedicated to sport and Leisure.
The Stadium will be used as a home group for Bo Rangers Football Club and also supporting qualified football pitch to host Leone Stars home matches and other Sierra Leone Premier League matches.
The Southern Arena Stadium project is proposed to host 6,000 Spectators after completion. It has been confirmed by one of the engineers working at the Construction site that the arena will be ready to even host the start of the Nations Cup Qualifiers for 2023 which is scheduled in June 2022.
What has been considered by many as a dream is finally becoming a reality as artificial turf of the Stadium has been rolled out, which means the Stadium is partially completed. As per plan, the Southern Arena Stadium will be perfectly ready before the start of 2023 Africa Nations Cup Qualifiers.
"…to contribute to societal development, develop new players and improve on existing young football stars in the country and to explore their potentials.." Babadi Kamara disclosed the reason among others for taking such a huge monetary projects.
The installation of the artificial turf clearly indicates that, the Stadium is at its completion stage. There are still other things to be completed in a short period of time to beautify the Stadium which will make it stand unique comparable to other Stadia around West Africa and Africa as a whole.
A big job well done by Babadi and team!!!