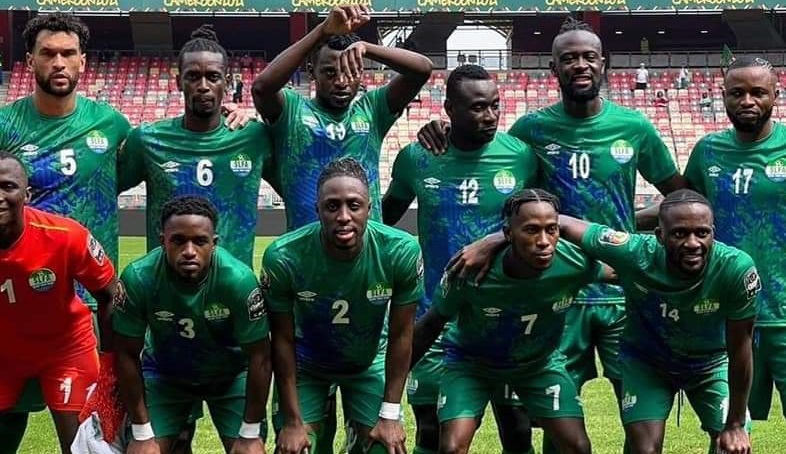 "Leone Stars Can go as Far as we Can"… Leone Stars Team Manager Babadi Kamara Declares
The Team Manager of Leone Stars, Babadi Kamara has confidently said Sierra Leone can go as far as they can in the ongoing African Cup of Nations in Cameroon through resilience and determination.
Babadi Kamara who seem relieved after Alhaji Kamara's stoppage time goal snatched a point for the Leone Stars against the Elephants of Cote D'Ivoire, was responding to questions posed to him by press men after the Group E encounter on Sunday evening.
"We're here as far as it is possible, we are not here to only participate but to compete and to ensure that Sierra Leone is well known all over the world, and that we get very good results and when we go back home, Sierra Leoneans will be very proud of us".
Leone Stars had their second draw in as many matches against one of Africa's heavyweights in football, and Babadi Kamara could not hide his emotions over the outcome of Sunday's thrilling encounter against the Ivorians and had this to say: "Obviously, today's match was a tedious one with excellent performances from both sides. At the start of the match, the Ivorians were very hard on us (Leone Stars). We came in the second half, strategized with a different game plan which was able to give us a result".
Babadi Kamara also spoke about the engine that has driven the team to its recent glory. He said the recent achievement of the Leone Stars is due to teamwork, love and dedication.
"The inspiration to our current success is teamwork. The synergy between the technical team and the players is exceptional. Also, the support from government is immense. These are factors responsible for the urge for success and all-round team performance the players have been putting".
The business guru, in appreciating the efforts put on by the boys by coming from behind on two occasions and forcing a draw against Ivory Coast, boosted their morale with an extra $1000 bonus for all 28 players who made the trip to Cameroon.
Sierra Leone is third in Group E with two points after two matches played behind Equatorial Guinea and Ivory Coast who both have three and four points respectively. Defending Champions Algeria, lie bottom of the log with one point after tasting their first defeat in four years against Equatorial Guinea on Sunday.
The Leone Stars will face Equatorial Guinea in their final group phase match on Thursday, 20th January in Limbe South-West Region of Cameroon. There would be only one thought on the minds of the Leone Stars players, (victory) against the Nzalang Nacional of Equatorial Guinea if they're to secure instant qualification to the next stage. Sierra Leone could be top of Group E if Algeria are to defeat the Elephants, while the Leone Stars win with any score line on Thursday.