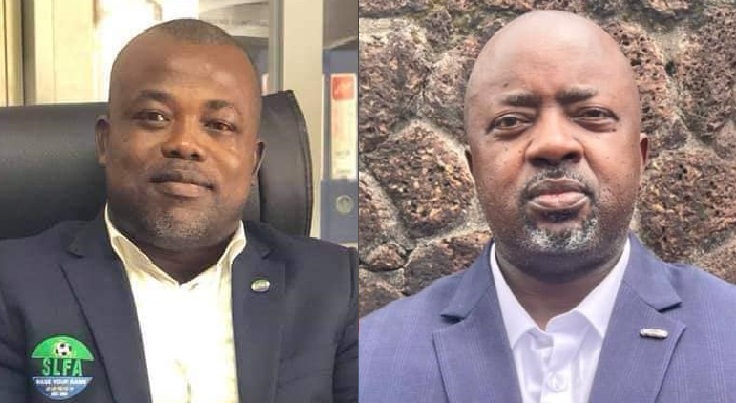 Meet The Newly Proposed SLFA General Secretary as Thomas Daddy Brima Takes Decision to Sack Chris Kamara
Usually, reliable source at the Sierra Leone Football Association, SLFA told Politico last night that the organization's controversial Secretary General will be sacked in the coming days. A
ccording to our sources, Executive Committee members were unanimous in their decision to sack Chris Kamara and that the actions were delayed because the legal implications of his dismissal have been considered. Our sources add that Kamara would initially be sent on leave and would be eventually sacked and replaced with the current Corporate Affairs Manager, Mohamed Benson Bawoh.
Kamara was recruited in May of 2014 by newly-elected Isha Johnson with whom be presided over some of the most turbulent periods in the history of Sierra Leone football, characterized mainly by disagreements with a stockholder group of owners of Sierra Leone Premier League clubs, two suspensions by football world Governments body, FIFA and a corruption trail in the High Court of Sierra Leone. Kamara and her boss Isha Johansen were acquitted.
Last week, the General Secretary was locked in an embarrassing war of word with players who recently represented the country in African Nations Cup in Cameroon. He went on radio and accused the players of behaving dishonestly by withholding suitcases full of football gears using the tournament which, according to him they ought to have returned to the SLFA. He threatened to withhold money donated to the team by the private company in Sierra Leone if the players failed to return the suitcases.
In that same broadcast, the manager of the national team contradicted Chris Kamara's assertion about the suitcases. Babadi Kamara said he wasn't aware of any agreement about the return of the suitcases. He said he taught the players should be allowed to keep them memorabilia.
Some of the player took social media to accuse the General Secretary of acting in bad faith because 'we were never told that the suitcase should be returned to the SLFA at the end of the tournament'.
Politico Newspaper reports that, Steven Caulker who plays club football in Turkey accused Chris Kamara of 'lying'. He said instead of focusing on arranging friendly matches so that the team can improve in readiness for future tournaments, the General secretary was trying to set people apart. Caulker said until the destructive people were removed from administration of the SLFA, it would be difficult to attract players in the big leagues of Europe that qualify to play for Sierra Leone.
It not clears how Isha Johansen, the former SLFA president who played a key role to bring the current president to power will react to the sacking of her confidant but a prominent football stakeholder said the sacking of the General Secretary will signal a determination by the new SLFA to take tough decision and consolidate his hold on the association.