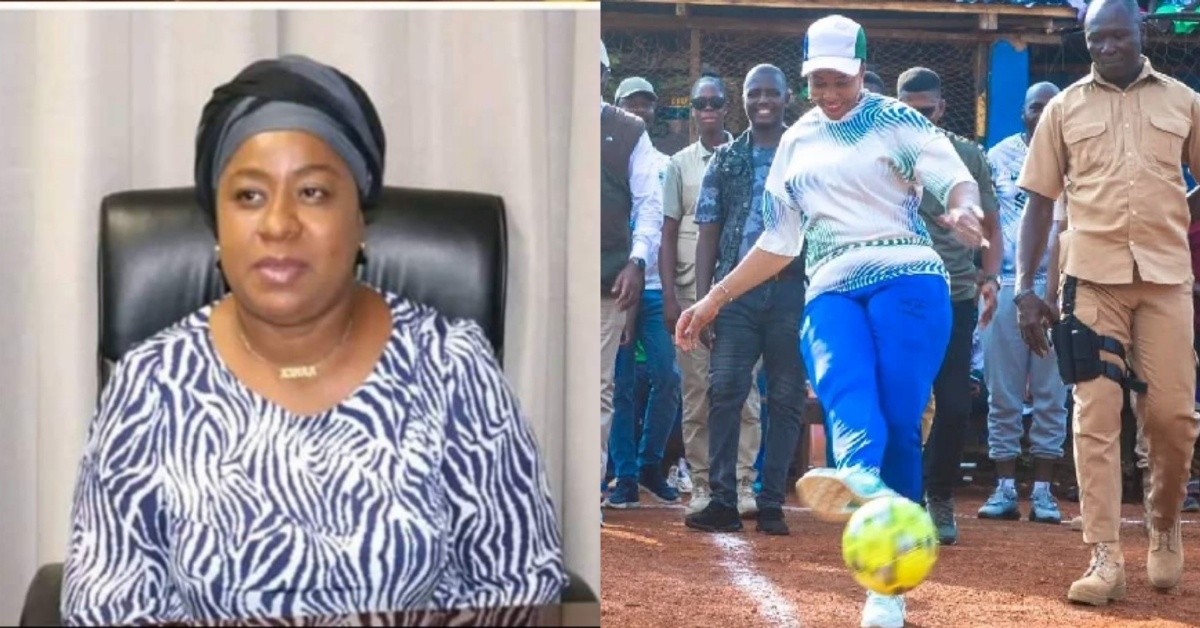 First Lady To Take The WPL Kick-Off In Makeni
The First Lady of the Republic of Sierra Leone H.E Fatima Jabbie Bio has accepted the invitation of the Women's Premier League Board to do the kick-off of the country's maiden top-tier female league which has been slated to commence on Saturday, 15th October 2022 at the Makeni Wusum field Northeast Region Sierra Leone.
First Lady, Fatima Bio confirmed her presence to witness the opening day when the Women's Premier League Board visited her last Thursday, September 29th, 2022 at her Godrich Office in Freetown, and they were accompanied by the SLFA President Thomas Daddy Brima.
Speaking during the visit to the First Lady the Sierra Leone Football Association President Thomas Daddy Brima stated that he has been providing support to the Board including personal funds to ensure the return of competitive female football in the country, but for the league to be remarkable the support of other people is vital and highly needed and key among them is the First Lady who is a football fanatic and passionate about girls and women empowerment.
Chairperson of the Women's Premier League Board Asmaa Kamara James briefed the First Lady, on the activities the Board has undertaken and not limited to engaging parents, executive members of the various clubs to recruit more females that will prevent sexual harassment not hinder the progress of the game, while a major reason for the league is for the country to have better national teams for the various international competitions, noting the support they have received from the government and that they believed "we day play the game" as the theme states.
First Lady of the Republic of Sierra Leone, H.E Fatima Jabbie Bio lauded the Board for the progress they are making and further assure the Women's Premier League Board that, she could do all she could to witness the opening ceremony between Mena Queens FC based in Makeni versus Kahunla Queens from Kenema.
"I would like to urge you to continue to serve diligently and make Sierra Leoneans enjoy the beautiful game of football" the First Lady urged the Board.