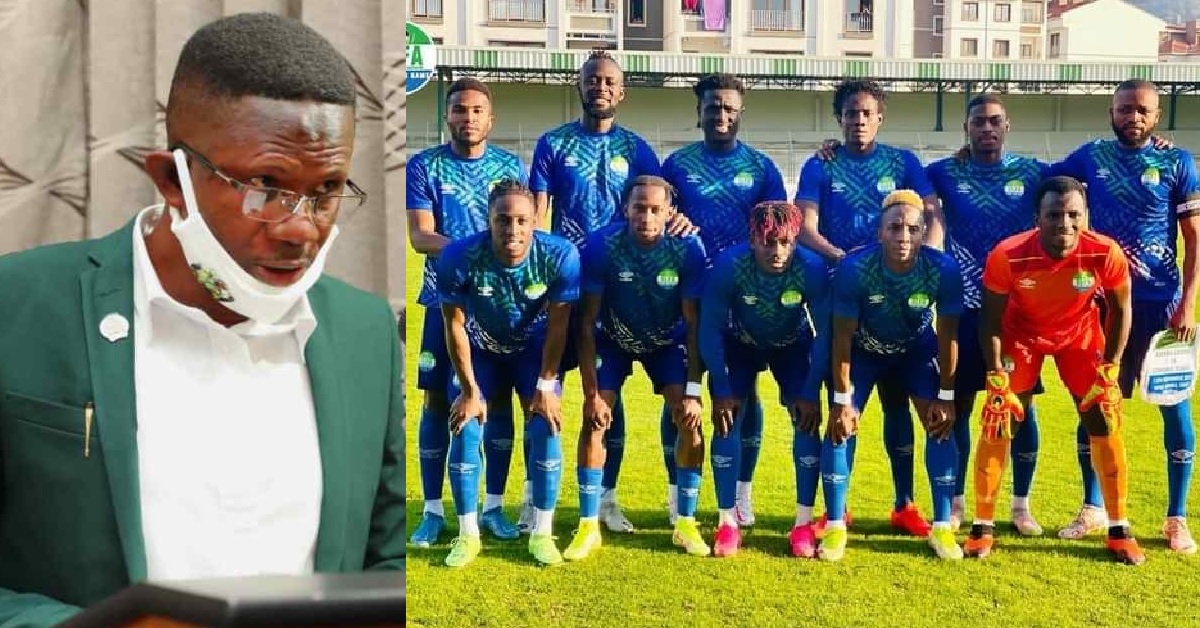 Sport Minister, Ibrahim Nyelenkeh Stakes His Neck For Additional Appearance Fee For Leone Stars Players
The Ministry of Sports, Ibrahim Nyelenkeh has assured  members of the public that he will now  stake his neck to make sure  Leone Stars players get $5,000 as their  new  match appearance fee. He clarifies  in an interview with Radio Democracy that despite they initially settle for $3,000 as match appearance fee for players
Ibrahim Nyelenkeh, expressed delight over Sierra Leone's 0-0 draw against reigning champions Algeria at the Japoma Stadium, Douala, Cameroon's second capital.
Minister Nyelenkeh delightedly maintained that Tuesday was a great day in the office for him as Minister of Sport. He said Tuesday's Group E draw against Africa's footballing powerhouse, Algeria is a feat worth celebrating as a reaction to pessimistic Sierra Leoneans who thought the Desert Foxes could have had a smooth ride against the Leone Stars with a lot of deficits.
"Today is a great, a moment worth celebrating for our National Team Leone Stars. Few of our compatriots were glum about our boy's courage to tackle the Algerians in the "David versus Goliath" titled match", he elatedly said.
"Tuesday match should send a strong signal to other footballing nations that the Stars are this time ready for competition against any other opponent in world football", he boasted.
Minister Nyelenkeh stated that the draw gives him great joy relishing his position as Sports' Minister who has done so much through hard work and is ready to do more for the development of sport in the country.
He said his inspiration to make sport especially football resourceful for all, comes from his boss H.E Julius Maada Bio, who he said has set a great leadership track record that is worth emulating. "I feel good today, I feel good as a Minister, as someone who judiciously and diligently carries out the task of his boss with pride", he avers.
Ibrahim Nyelenkeh noted that there was a huge decision taken by him and his team which he believes is one key element that made the boys put out that outstanding performance during Tuesday's meeting with Algeria.
"I took a very tough decision today which I have to make known to my boss, H.E Bio, this has to do with allowances", he informed.
Mr.  Nyelenkeh noted that the boys have for long raised concerns with regards match appearance bonuses which according to him, have been genuine concerns, but due to the prevailing economic situation in the country and the burden to also support other supporting disciplines, they always prevail on them to see reasons and accept what is brought on the table. He went on to accept the fact that the country's national football team has the current lowest match appearance bonus status in the sub-region and for footballers to give their all in matches, they need to be highly motivated.
He said before the team's departure to the Japoma Stadium for the crunch meeting with Algeria, the players requested a meeting, and key among their concerns during the meeting was the request to increase their match appearance bonus. A request he said the boys had threatened not to play the match if not fulfilled.
"Despite prevailing on them all this while to see the reason to accept the $3000 match appearance bonus which was set aside for them before they departed for AFCON, the boys before Algeria's match staged a protest that they won't play if their match appearance bonus is not to raise to $5000.  "I had to take that bold step as Minister in front of the Director of Sports, Team Manager, the FA President, and Mohamed Kallon to accept their request, and it's paid out. This is a decision I will have to inform my boss the President about", he informed.
Minister Nyellenkeh also spoke about the unprecedented number of fans the country took to the African Cup of Nations. He has this to say: "The presence of supporters in any supporting event gives moral to the performing athletes, and it's from that backdrop His Excellency Julius Maada Bio through his love for football, approved that 70 supporters be brought to Cameroon fully catered for by the government, to be part of the supporting delegates of Leone Stars in the AFCON showpiece. 
Leone  Stars is expected to play their next match against Algeria on Sunday 16th January 2021.